How To Write A Book
Many young (and old) readers have the hope to one day create books, not unlike those that they read. It's only natural that after exploring so many words on pages that one begins to come up with their own stories that they want to share with the world. But getting an actual book written can be incredibly hard.
The first thing you should know before you even begin is that you're going to be in there for the long haul. Like all great things in life, like all lasting things, it takes hard work and time put into it. J. K. Rowling herself took about six years to finish the first Harry Potter book. I know people who have been trying to iron out story ideas that they began developing in seventh grade. It takes effort, and most of the time it takes having to work around the life you already have. Heaven knows that I would love to be able to devote actual time to writing, but instead, I'm left trying to find a way to squeeze in typing time between school, homework, and my job. Most authors have to deal with writing in the time between obligations. According to Biography.com, Sir Arthur Conan Doyle started out as a surgeon, Harper Lee was a ticket agent, and James Joyce taught English.
It's good to have a healthy support system around you that can help you achieve your dreams. Even great authors had their own great writing group, such as The  Inklings, which consisted of J. R. R. Tolkien and C. S. Lewis (Tolkien would be the one that said you cannot write a fantasy story with electric lamps in it, leading to the iconic lamp post in Narnia which Lewis put in out of spite). There are such groups available in South Jordan, such as Writers Guild which meets once a month in Mrs. McCandless' room, and Inklings (yes, named after Tolkien and Lewis' writing group) that meets once a week at the South Jordan Library. I've been attending Inklings for three or four years now and Writers Guild for three (I am in charge after all) and I have to say that there are
fantastic people in both groups that help to encourage me to keep writing. In Inklings, I've had the opportunity to talk to authors before, such as Jessica Day George who wrote Dragon Slippers and Princess of the Midnight Ball. She talked about the importance of knowing where a story is going, mentioning how later in one of her series she wanted to bring a previously slain villain back and wished she could go back and hint on the fact in the previous books.
Other great resources for writing include NaNoWriMo, or National Writers Month. NaNoWriMo is in November, where you attempt to write 40,000 words in a single month. It's a challenge, and one I've never managed to achieve, but it's always been a great time to push yourself and try to get that draft finished. During NaNoWriMo the library will even have writing meetups where you sit down and just write for a solid hour or so, even providing some food and having different optional activities during the hour
such as word sprints (seeing who can write the most words in a set amount of time). If November seems too far away there is a similar setup event in the spring and
summer called Camp NaNoWriMo.
The last piece of advice I have comes from Rick Riordan, the author of the Percy Jackson series and universe (who on his website rickriordan.com has great references
and advice for starting out authors): "You'll get to the middle of the manuscript and you think, "Oh, this is too hard. I think I'll start another book instead and that will be easier. DON'T! That new book won't be any easier. Soldier through and finish. Don't worry about mistakes on the first draft. Finish the manuscript and THEN go back and revise. When it's time to submit your
work, remember that rejection is a part of writing, and it hurts. The trick is to keep at it. Wallpaper your room with rejection notes, if you want, but don't give up."
About the Writer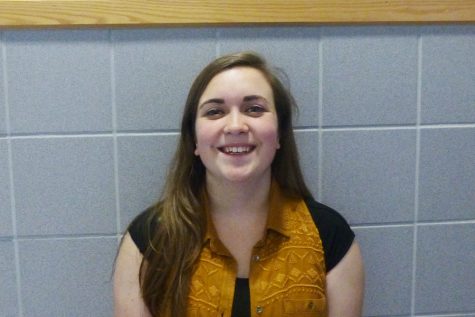 Becky Weber, Art Editor
Becky Weber is a senior at Bingham High School. She is academically focused, taking a love to school....