The Pajama Game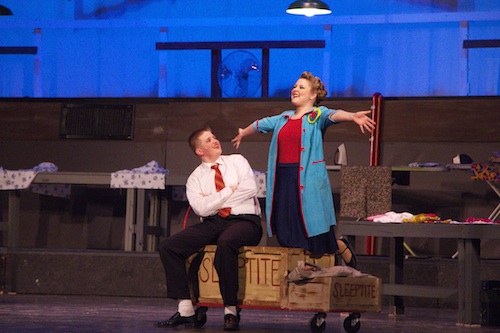 With the singing of Riley French, the dancing of Mary Schilling, and the acting of Jocelyn Jorgenson at its forefront, this year's musical The Pajama Game could easily be considered a success.
Michelle Robbins, theatre teach at Bingham High School, directed the play with assistance from Liz Smith, Deb Veater, Lori Metcalf, and Ashley Hoyt. The musical ran from November 17th-20th with 3 night showings, a Saturday matinee, and a special opening performance for freshman from Elk Ridge and SJMS.
The musical, initially based off the book 7 ½ Cents by Richard Bissel, took place in a 1950s pajama factory. With workers fighting for a 7½-cent pay increase, romance blooms between Catherine "Babe" Williams (head of the grievance committee), and the "very attractive" Sid Sorokin (the new superintendent).
With the cliché love, denial, acceptance, and the expected break-up-only-to-get-back-together scenes, my initial hopes for the plot were low. However, in the end I was pleasantly surprised. The cast brought to life an every-day situation with incredible singing and dancing routines. The catchy music was impossible to get out of your head.
Yet despite the many good qualities of the play, several scenes interrupted the generally pleasant plot. I had not expected the show to contain so many sexual innuendos or suggestive references, regardless of the actors' excellent portrayal of them. With no less than 8 kisses throughout the entire performance, one wonders what both the actors and the freshman were thinking, though it definitely appealed to the majority of Bingham students.
There were definitely highs and lows throughout the play, but ultimately, the cast was what really made this a success. While the plot wasn't my favorite, I got chills during almost every song as the performers belted entertaining lyrics in perfect sync with one another; all with smiles on their faces.
With their incredible time commitment, undeniable sleep deprivation, and near exhaustion, these students and supervisors sacrificed so much time and effort making this musical a fantastic production.
"The script is very simple," stated Riley French. "It's just a fun story."