'Fly, Fly Away' With Bingham High School's 'Catch Me If You Can'
Dancing flight attendants. Relentless FBI agents bent on justice. Hollywood's most notorious conman. What do these have in common?
You can catch them all on the Bingham stage!
The high-flying Broadway musical "Catch Me If You Can" is taking the stage at Bingham High this March. Directed by drama teacher Jason Purdie and featuring a cast of over 100 Bingham students, the show runs March 11-14. And take it from anyone in the cast: you won't want to miss this one.
Based on the iconic 2002 film of the same name, "Catch Me If You Can" follows the thrilling life of Frank Abagnale Jr., one of the youngest men ever to appear on the FBI's Most Wanted list. By the age of 21, he'd successfully impersonated pilots, doctors, and lawyers—all right under the nose of the detectives itching to catch him. As the curtain rises to reveal Abagnale caught by FBI officer Carl Hanratty, the young conman takes the opportunity to tell the audience exactly how he almost got away with it.
Audiences will be on the edge of their seat as they con their way across the nation with Abagnale, navigate love with young nurse Brenda Strong, and track down the "man inside the clues" with Hanratty. What's even more impressive? It's a true story. Abagnale's heists have stolen the hearts of hundreds, and for good reason. The musical explodes with vibrant dance scenes, catchy tunes, an exhilarating story, and—of course—the talent and showmanship Bingham High is known for. 
"It's unlike any show you've ever seen," says senior Ben Tate, who portrays Frank Abagnale Jr. in the production. "The choreography and music by themselves are phenomenal, but put together, it's breathtaking…I've never worked with people more naturally talented than the individuals in this cast. Everyone has so much strength in their own way, and the way they work together to make each other better is beautiful." 
It's a sentiment that many of Tate's castmates certainly agree with. Holly Snow, who plays Brenda, further explains, "We have amazing singers and dancers to show off this amazing show. We have a lot of fun performing together." 
Although "Catch Me If You Can" is a challenging show to say the least, these talented high school actors have certainly risen to the occasion. "I find myself connecting to [Brenda] more every day and it just makes it more fun to be in the show," Snow continues. "I am very lucky to have this opportunity." Evidently, Tate is just as thrilled to be working on the production. "I've loved every second of it. Mr. Purdie is a mastermind and he knows how to put a show together. The amount of hours he and countless others have put into this show is jaw-dropping and I couldn't be more impressed with the effort put into it."
Of course, it takes a village to put a show like this together. Hundreds of kids throughout the school are working tirelessly to bring "Catch Me If You Can" to life. There are endless ways students are getting involved, with roles to play, dances to learn, tech jobs to fulfill, sets to construct, and costumes to design. In fact, some of the most important roles in the production never even come on stage. "I think that a lot of people don't realize how much goes into a show behind the scenes," explains stage crew member Carter Jensen. "I know that I have personally spent upwards of 18 hour days at the school working on things like lights, sound, or building sets." Needless to say, the magical moments audiences love to see would be nearly impossible without students like Jensen and the rest of the Bingham stage crew ensuring that everything runs smoothly.
Whether you're up onstage, behind the scenes, or cheering from the audience, Bingham High School's "Catch Me If You Can" will be an unforgettable experience for everyone involved. No one is going to want to miss this hilarious, jaw-dropping adventure, all right here on the Bingham stage. So catch it if you can!
Leave a Comment
About the Contributor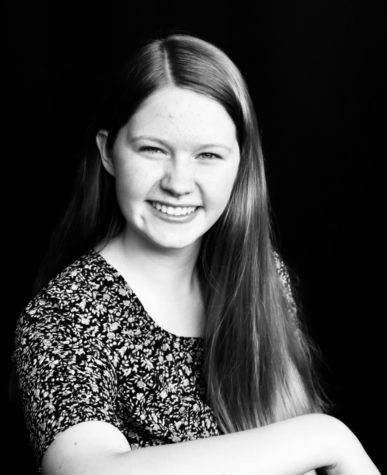 Grace Colvin, Minertorials Editor
I am a junior and thrilled to be serving as Minertorials Editor this year. I was on staff last year and...