Books That Changed Bingham
Books are more than just words on paper. They have been around for thousands of years and have been collecting the knowledge and dreams of our world so that they'll never be forgotten. They also have the ability to leave emotional and long lasting impressions on the readers who come across them. Six avid readers at Bingham High have helped me compile a list of books that have left them in waves of emotion. From tears of joy to stomach cramping laughter to sobs of despair, it was these books that made them feel things they never even knew were possible.
Pesi Kimoana, a junior at Bingham, was greatly impacted by "The New Jim Crow: Mass Incarceration in the Age of Colorblindness" by Michelle Alexander. The book describes in heart-wrenching detail how millions of African Americans are locked behind bars and denied the basic human rights that they fought so hard for during the Civil Rights Movement. Kimoana explained how the book has a serious undertone and that it is definitely a tear jerker. She stated, "It has educated me about the lasting loopholes and alternatives of the Jim Crow laws and how the justice system is extremely corrupt." She recommends this book to anybody and everybody, and she challenges all of us to push for racial justice in America.
"The Perks of Being a Wallflower" by Stephen Chbosky is a young adult fiction novel that helped Alyssa Lonni, also a junior at Bingham, realize that everything always ends up being okay. The coming-of-age story is about a socially awkward teen named Charlie, a wallflower, spending his life watching from the sidelines. That is until he meets Sam and Patrick who become his mentors and close friends, along with his teacher who helps to fuel his passion for writing. However, when Charlie's new friends are all saying their goodbyes after graduation, he is forced to face an inner sadness and unresolved traumas. The story is, in essence, about healing with the help from others, though mainly through your own inner strength. Lonni's favorite quote from the book is from Charlie who states, "So, this is my life. And I want you to know that I am both happy and sad and I'm still trying to figure out how that could be." 
"Red, White & Royal Blue" by Casey McQuiston is an LGBT romance novel that follows the relationship between Alex, the First Son of the United States, and Henry, a British prince. Peyton Sorenson, a junior at Bingham, became completely captivated by the story and the characters within the first 10 pages. McQuiston created something that will mean so much to so many readers and Sorenson hopes that everyone will be able to feel the powerful amount of hope he did as he turned the final page. A quote that has stayed with him from the novel goes, "History, huh? Bet we could make some."
Nethra Suresh, a junior at Bingham, fell in love with "The Giver" by Lois Lowry at a very young age. The dystopian novel follows Jonas, who lives in an emotionless society where individuality is stripped from every citizen. He is chosen to be the Receiver of Memory, the person who stores all past memories, and now must persevere through all of the new emotions he is introduced to, whether they are good or bad. Suresh stated, "I had never read anything like it. It was surreal to see a world so different from ours. From this book, I developed a love for interesting, thought-provoking stories." Lowry teaches readers that without the depth of sadness, we can never know true happiness. 
"The Song of Achilles" by Madeline Miller is a modern classic and Avery Humphries' comfort book. Humphries is a junior at Bingham and went through every human emotion possible while reading this adaptation of Homer's "Iliad" as told from the perspective of Patroclus. It spans from his childhood to the Trojan War Achilles fought in, and it tells a heart-rending story about love, war, and glory. Humphries describes the novel as being beautifully written and emotionally devastating. She states, while shedding a tear, "The book full-heartedly devoured me into it. Then it spat me back out without any remorse—so that's cool." The book is like passion put on parchment and full of entrancing writing like, "I could recognize him by touch alone, by smell; I would know him blind, by the way his breaths came and his feet struck the earth. I would know him in death, at the end of the world."
Ms. Hollinger, a Language Arts teacher at Bingham, has loved the classic novel "Jane Eyre" by Charlotte Brontë since she was in high school. The gothic romance follows Jane as she is looking back on the past at things that have shaped who she has now become. As the reader, you follow her to a point where she is forced to make a moral choice, and she must learn to listen to her inner self and let her individuality champion in the end. Hollinger remarked, "You feel like you know her. You get her story and you're rooting with her to have what she wants even if it's not an easy path." The story is not only about Jane staying true to herself, but is also about how important it is to know your own true self worth even when no one else is rooting for you. Hollinger expressed, "In a world where it's hard to believe in ourselves, Jane Eyre really showcases that. That how you feel about you is more important than what other people say or how easy another decision might be."
Finally, a book I read in just two days that sparked my love for fantasy fiction was "Crescent City: House of Earth and Blood" by Sarah J. Maas. Bryce Quinlan leads a perfect life until her best friend is murdered by a mysterious being which sparks up an investigation with Bryce at the heart of it. With the help of Hunt Athalar, Bryce discovers a dark and pressing power in Crescent City that threatens everything and everyone she holds dear. The book is full of plot twists and does a perfect job of creating a world that any reader can become completely immersed in. My favorite quote from the book states, "Our love is stronger than time, greater than distance. Our love spans across stars and worlds. I will find you again. I promise." 
Books have the power to enlighten us on pressing social issues, transport us to different magical worlds, or even to help us realize who we truly are. They are like people; we read so many and yet fall in love with very few. These few books that every reader holds dear are meant to be shared with the world. Please leave any books that you are passionate about in the comments and hopefully you can find your next cherished book there or from the list above.
*Disclaimer: The book recommendations in this article represent the individual perspectives of those interviewed and do not represent an endorsement by Bingham High School of any of these books or their content. Students are encouraged to read book reviews and check book content before choosing to read any of these books. Content information and book reviews can be found at

Common Sense Media

and

Goodreads

. 
Leave a Comment
About the Contributor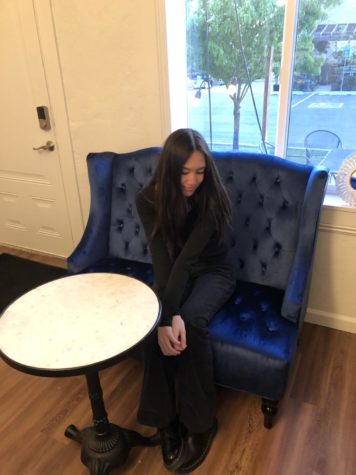 Bella Klinzing, Editor-In-Chief and Arts and Entertainment Editor
I am a senior and am so excited to be the Editor-In-Chief this year! I am passionate about reading and...