Fun Things to do Over Spring Break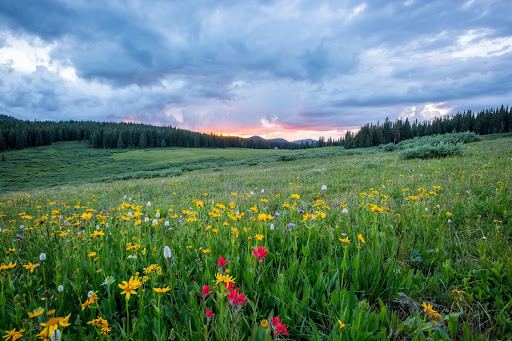 There are so many fun things to do and places to visit in Utah over spring break. You don't want to be bored out of your mind, so here are some great ideas of activities you could do. 
Group Activities
1.Go on Picnic
A picnic with friends lets you enjoy the beautiful weather and bond with the people you love. You can enjoy good food and even take aesthetic pictures for your Instagram. For food, you could find a recipe and cook beforehand with your friends or just go buy some good things from the grocery store. However you plan to do it, it'll most likely be cheap and fun for everyone!
2. Thanksgiving Point Tulip Festival 
Thanksgiving Point's Annual Tulip festival begins on April 8 and ends on May 7. Thousands of tulips are imported from Holland each year. Admission for youth aged (13-24) costs $19 Monday through Thursday and Friday through Saturday it costs $24. This event is a perfect way to experience the beauty of spring!
3. Easter Activities
In preparation for Easter, April 17, there are many cute holiday traditions that you can do with your friends or family. 
 "My mom loves to make Easter Bunny pancakes. She still gives us baskets and makes Easter dinner," said Megan Boyle, a student at Bingham High School. 
Other traditions you could do with your friends or family include making Easter eggs, doing an Easter egg hunt, or watching an Easter movie like "Hop." 
4. Utah Museum of Fine Arts
The Utah Museum of Fine Arts is located at the University of Utah in Salt Lake City. The museum is open Tuesday through Sunday and admission costs $12.95. 
"I went to the University of Utah Art Museum. I thought it was really beautiful. They had a section that was really old and had ancient pieces from all over the world that represented unique cultures," said Bella Klinzing, a student at Bingham High school. 
One exhibit presented right now is "Transcending Time and Space" by artist David Rios Ferreira and featured artist Denae Shanidiin. This exhibit merges science fiction with cultural and spiritual traditions. 
This museum is a unique place to visit and is definitely worth a look if you enjoy art. 
Individual Activities 
1. Spring Cleaning  
Since you won't be in school you'll have a lot more time to do other productive things. This extra time you have would be perfect for some spring cleaning. 
Spring cleaning lets you start fresh for the new season. You could clean out your closet, deep clean your room, organize random drawers, and much more. Whatever you decide to clean, you'll feel accomplished when you're done.
2. Self-Care 
Sometimes school can cause you to be overwhelmed and exhausted. Spring break is a good time to recharge, rest, and take care of yourself better. 
"Sleeping is my joy in life and I love to binge-watch old Disney Channel shows," said Boyle.
Getting sleep is a vital part of your health and wellness, and doing things you enjoy will improve your happiness. 
Other things you could do for self-care are journal, read, take a bubble bath, or go treat yourself to yummy food. 
There are many things you can do by yourself. It's important to take time for yourself so you can focus on you and do the things you need to in order to recharge before school starts again.
National Parks and Hikes
National parks surround Utah, and most are just a couple of hours away. They include Zion, Arches, Bryce, and Capitol Reef. 
"I think it would be fun to go on a little road trip with friends to a national park," said Klinzing.
National parks can be fun adventures, and they're a lot cheaper than trying to plan a trip to Disney or something like that. Just make sure to plan ahead because they can get crowded. 
"I went to Capitol Reef National Park with my friend. We went hiking and got a pie from a cute little shop near the park," Boyle told me. 
But if you don't want to plan a whole road trip, there are still ways to enjoy the nature of Utah by going on local hikes. Just a quick search on Google and you can find trails less than an hour away. 
Whatever you decide to do over the break, make it fun! Do things with your friends or family, focus on self-care, and enjoy the outdoors.