Depp v. Heard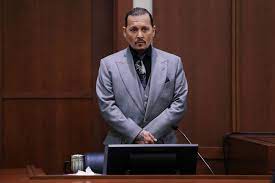 We all know Johnny Depp as Captain Jack Sparrow, scourge of the high seas, terror of the Caribbean, and Amber Heard as Queen Mera of Atlantis, but outside of the movie set, they're currently engaged in a ferocious he-said-she-said court battle, on which their careers and well-being depend.
Depp and Heard met in 2009 on the set of a movie called "The Rum Diary." Their relationship progressed and eventually resulted in their marriage in 2015. In 2016, Heard accused Depp of physical abuse and filed for divorce. She claimed he always came home drunk, high, and violent, and would beat her for various reasons. Depp has long admitted he had a substance abuse problem, but he continues to deny all assault allegations. The divorce went through, but a non-disparagement clause was included, meaning that neither of them can say anything negative about their former relationship.
In 2018, Heard wrote an article for the Washington Post which claimed that she was frequently abused by Depp. Depp sued for defamation and libel, saying that it was Heard who abused him. The libel case took place in 2020, and Depp's former partner Winona Ryder testified that Depp was not an aggressive person. Depp accused Heard of defecating in his bed and of physically abusing him on multiple occasions. The court ruled against Depp. Warner Bros fired Depp from his role in the upcoming Fantastic Beasts movie, which has sparked controversy since Heard was allowed to keep her role in Warner Bros' Aquaman movies.
This brings us to April 11, 2022, when Depp took Heard to court for defamation. Depp claims that Heard abused him physically, mentally, and emotionally. Heard is countersuing, claiming that the only times she hit/punched/pushed him were because she feared for her safety, and that Depp was the abusive and unstable one. Closing statements in the trial are scheduled for May 27 and a verdict can be expected shortly after that. 
 The public almost unanimously sides with Depp. According to Rasmussen Reports, 80% of the people they interviewed that were informed on the case supported Depp, with only 20% backing Heard. Those numbers were based only on the people who were following the case. The internet has also started a semi-vicious campaign against Heard. Twitter users took Depp's statement about Heard leaving human waste in his bed and used it to create nicknames such as "Amber Turd," one person going so far as to make that the name on her Wikipedia article, though it was changed back shortly after. 
Mr. Depp's evidence includes an audio recording of Heard daring him to "tell the world… I, Johnny Depp, a man, am a victim of abuse… and see if people believe or side with you." The full recording can be found here: https://youtu.be/DaPyaRz_efA?t=57 (content warning: profanity). 
Depp also has witnesses, including actor Paul Bettany. Depp and Bettany and their families were on a vacation together. At one point, Bettany and Heard got into a disagreement. Depp and Bettany have pointed out that any time someone tried to make a point, Heard would talk over them. Depp testified that after the argument had gone for a minute, Bettany's 18-year-old son Kai, who Depp described as "brilliant," tried to voice his opinion, referencing something he had learned in school. Heard then "demeaned that young man to the point of where he burst into tears and walked away." 
One other notable point of Depp's was that Heard claimed she had used the same makeup palette to cover her marks of abuse from Depp through their whole relationship, but the palette she submitted as evidence didn't come out until their relationship had already ended, proving that her makeup claim wasn't real.
Ms. Heard's evidence, on the other hand, is quite lacking. As far as physical evidence goes, her only significant piece was the makeup which was proven false. Her testimony was an emotional tale of years of abuse and fearing for personal safety, but without physical evidence, a testimony doesn't mean much to the jury. Her points may be valid, but anyone can say anything they want without evidence.
It should also be noted that she is a trained and skilled actress, so with no one to corroborate her story, it's very possible that she is lying about certain things. She was also seen using a tissue that was not from the court's tissue box while on the stand. It appears that she may have been snorting something out of it. Members of the acting community have suggested that it could have been menthol. Menthol is commonly used to produce tears while acting, and Heard began crying shortly after using the tissue.
People are realizing that this case is essential in proving that men can be victims of abuse. Currently, there is a precedent of stereotypes and dismissal surrounding male abuse cases, but this case could change that if Depp wins. It would help thousands of male victims across the country.
Leave a Comment