Shiver Me Timbers! Bingham Theatre Co. Steals Hearts in 'The Pirates of Penzance'
A rollicking band of pirates bent on revenge. A modern Major General and his bevy of beautiful daughters. A clueless crew of bumbling cops. And a pair of star-crossed lovers who plan to beat it all. What could possibly go wrong?
Bingham High theatre-goers discovered just that in this year's spirited school musical, The Pirates of Penzance. This classic Gilbert and Sullivan operetta has often been hailed as the father of the modern musical—and for good reason. Audiences delighted as they laughed through the hilarious and heartfelt story presented entirely by high schoolers. First performed in 1879, the story follows a dashing young pirate, Frederic, who was accidentally apprenticed to a gang of soft-hearted pirates until he reached the age of 21. After coming of age and being freed from his position, he falls helplessly in love with the beautiful Mabel and the two plan to wed. But when the discovery is made that Frederic was born on Leap Day (and therefore, will not turn 21 for quite a while), he is reclaimed by his former crew and finds himself stuck in the middle of a deadly conflict between the pirates and his beloved Mabel's Major General father. Will his love for Mabel persevere? Or is he doomed to live as a pirate forever?
Headed by drama teacher David Martin, Bingham's dynamic production of  The Pirates of Penzance set sail on the 17th, 18th, 19th, and 21st of November. The annual school musical boasted a cast of over 150 actors and incorporated talent from nearly every fine arts program within the school. From performing onstage to creating magic behind the scenes, hundreds of hours were put into the seafaring musical comedy. The entire cast and crew have been hard at work since the beginning of the school year–and their workmanship and perseverance have certainly paid off!
The large cast featured the band of singing pirates, Mabel's graceful family of maiden sisters, and even a squadron of tap dancing policemen, all performing in perfect harmony. Many audience members claimed it was the best they had ever seen! The entire Bingham arts department banded together to give the show its sparkle. Actors attended countless hours of music and dancing rehearsal, orchestra and band performers practiced the music until it was perfect, and some overachieving high school students even headed the costume, makeup, and hair departments! It was certainly hard work, but the whole team agrees that it was all worth it.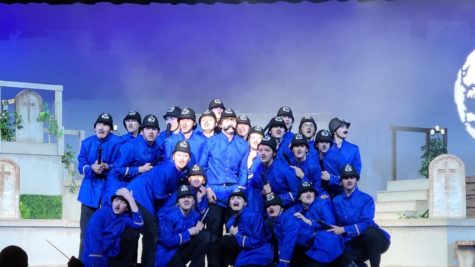 "Like a gravitational pull, I've always been drawn to theatre," explains junior Aeryn Cousineau, who played Mabel in the production. "One of the most rewarding things is seeing all of the smiling people after a show or performance and knowing that their day has been made a little lighter because of it. It's so rewarding to know that people are enjoying what you are putting on for them!" Cousineau also expressed that the show was a large commitment for everyone involved, especially with other demands such as schoolwork, sports, and extracurricular events, but the cast was always there for each other when they needed support.
It's a sentiment that the whole cast certainly agrees with. "The people are truly what makes this show (and Bingham Theatre Company!) great," echoes sophomore Miles Jeppson, who played Frederic. "I feel very grateful for the experience."
Between the challenging score of beautiful music, the unique incorporation of a live orchestra, and the high-energy line-up of exquisite dance numbers, putting such a show together was no easy task. But the talented ensemble was certainly up to the challenge, and the end result proudly displayed the hard work and showmanship Bingham Theatre Company is known for. Theatre teacher and "Pirates" director, David Martin, expressed his pride and gratitude for his students in a public statement, saying, "The culmination of the hard work we have put in [was] to put it in front of people . . . To see these kids get that opportunity is the highlight of my job. I am grateful to the students, parents, staff, and community for supporting us." 
Although the annual musical is one of the biggest projects for the Bingham Theatre Company, the curtain isn't closing just yet. They have a full season of exciting performances lined up for the rest of the year and cannot wait to see you there! So what's up next? Students can catch an improv show every month, with the troupe's biggest, most exciting show of the year, Pay-to-Play, coming up this December. Audition details for the annual straight play, 12 Angry Jurors, will be announced in the coming weeks, as will details for the yearly student-run short play presentation, Spring Showcase. And, as always, the company hosts monthly activities that are open to the entire student body to attend. Follow the Bingham Theatre Company at @bingham_theatre_company to receive updates! And until then, break a leg Bingham!
Leave a Comment