Secrets of a Sweethearts Nominee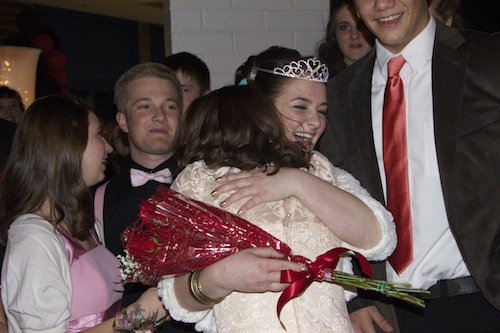 "I did more work for Sweethearts than any other class this year," said senior Kaitlin Peterson, Sweethearts nominee for the girl's lacrosse team.
Coming to school early every day, performing ridiculous skits in an assembly, and having the entire school know your most embarrassing moment were just a few requirements of this year's nominees.
These girls were chosen by members of their club for the leadership qualities they share, the friendliness they show to others, their entertaining personalities, etc. However, the process was not all fun and games. The girls and their dates were judged throughout the week on their creativity and originality when it came to the photo contest, their poster representing the club they came from, and most importantly, the cake auction.
For this activity, nominees and their dates were required to bake and decorate a cake that depicted their club in some way. The cake had to be made with, "no outside help, just you and your king," said junior and Sweethearts nominee Lauren Herrin.
"It was hard because I am an awful cook," said Kaitlin who sold her cake for $36 at lunch during the week.
But on February 9th when the dance finally rolled around, the girls were ecstatic. Nominees were asked to be at the school by a specific time, take pictures together, and then wait for the announcement of the Sweethearts queen, based on who had gotten the most points during the week-long contest.
With a look of complete astonishment on her face when FCCLA members announced that she had won, Lauren Herrin wore the crown that night.
"I had been really hoping to win because I'm really competitive so I went all out…I couldn't even believe it though! It had been such a crazy week!" said Lauren.
After, Lauren and Marty Martinson, her date, stepped on to the dance floor while ignoring the pressure of several students chanting, "Kiss! Kiss!" The couple just smiled as they danced to "The Way You Look Tonight" by Frank Sinatra.