SBOs 2018-19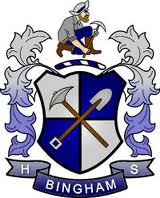 With the close of the school year comes the election of leaders who will represent the entire student body next school year. These leaders influence assemblies, True Blue, the much-loved spirit weeks, dances, and more.
While the class officers are representatives of the students in their respective classes, the Student Body Officers, as the name suggests, are representatives of the entire student body. They are the kindest, most influential, and most outgoing students at Bingham. This year, your representatives are Isaac Ngatuvai, Josh Berube, Bailey Stewart, Ashlee Webb, Ashlyn Owens, Josh Woolley, Tavo Estrada, and your SBO president, Braden Sorenson.
This group of SBOs is very unique because it has two future juniors in its ranks: Isaac Ngatuvai and Tavo Estrada. This is a huge achievement for them because there have only ever been two other times when a sophomore has run to be an SBO and won. Estrada said, "I don't think that only having one year of experience at the school will affect what I do as an SBO… for one, I won't have senioritis so I will be able to bring energy to the school." These two, along with the rest of the SBOs, make up a very capable staff, and I am excited to see what they do next year with Braden Sorenson at the lead.
The SBOs are not quite going at it alone either; Mr. Furlo is the SBO adviser and helps them make educated decisions all year. Furlo also teaches the seventh-period student government class where he teaches people in student government leadership skills and gives them an opportunity to work on projects like the dances. When talking about the importance of the SBOs Furlo said, "They can have a fairly big effect on attitudes; how people look at their school and the activities that they have…. If you are coming to school and enjoying the activities here I think you become a better student and become a better person." The SBOs can have a huge effect on your school year and they are the people working hard to make sure that we have a good time.
When I asked Sorenson, the 2018-2019 SBO president, how he is going to make next year better, he said, "The most important thing for Bingham is to make it united." He hopes to be able to make activities that appeal to as many people as possible and he wants everyone to feel welcome. Sorenson said, "They don't need to worry about coming to something and not having anyone to talk to. If they come, I will be their friend." Sorenson is a really kind guy, and he will make a great SBO president next year. He said that if there is ever anything that you would like to see, he will do his best to make that thing happen. All you have to do is tell him.
This quality of openness and eagerness to hear from the students is something that all of the SBOs share. They all want to hear from you so that they can make the school year a great as possible. If you want a masquerade ball, more girls pref dances, or a rowdier student section talk to the SBOs and they will do their best to make it happen. While these are the leaders who you have elected to make your school year fun, they can't do anything without your help. Give them ideas and make suggestions to them so that they can make the 2018-2019 school year as good as it can be.