Miners' Masks Disappear as District Shifts COVID Policies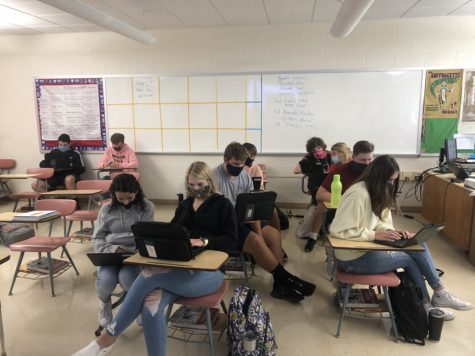 Blue cotton face masks. Desks spaced 6 feet apart. Gallons of hand sanitizer. The 2020-2021 school year made history. Students who made it through the year remember mask mandates, contact tracing, and even attending class through their computer screens. The threat of COVID-19 affected the school system in a multitude of ways. However, as new breakthroughs about the virus are made, and vaccines become easier to receive, the way Bingham High School is handling the virus has shifted. 
One of the most notable changes in COVID-19 procedures this year is the disappearance of face coverings. In the past, "masking up" was mandatory to attend school at all. Now, face masks are purely optional and can be worn—or not worn—at the student's discretion.
"Face masks are not required in Jordan School District schools or offices. Individual choices regarding masks should be respected," Jordan School District explains in a statement released before school. They add that if a student is exposed at school and was not vaccinated or wearing a mask at the time of exposure, they may be required to use a mask for 10 days to stay in school.
While this year's requirements may seem much more lenient than last year, contact tracing is still as prevalent as ever. Of course, students who test positive for the Coronavirus must stay home from school and all school activities for 10 days, starting when they first notice symptoms. The district then reports their schools' respective case counts to the county. If a school with more than 1500 students reports 30 or more active cases, every student must test to stay in school. Those who refuse to test or test positive must stay home for 10 days, while those who test negative are welcome to stay in school.
While teachers and administrators remain optimistic about the changes, they are still working to keep the school sanitary. 
"COVID procedures are not as bad this year," comments Bingham math teacher Cheryl Peterson. "I haven't had many students have to quarantine." She goes on to explain that she has made special seating accommodations for students who wish to isolate themselves from others and has "beefed up" her Canvas courses in case students must use them instead. Bingham personnel are doing all they can to help slow the spread of Coronavirus, from sanitation efforts to keeping much more rigid classroom arrangements.
Of course, the Coronavirus and the protection methods adopted are nothing new to students and citizens alike. The virus in question first appeared in Utah in early 2020. Its symptoms include a persistent cough, fever, chills, shortness of breath, and loss of taste or smell. Some specific characteristics of the virus depend on the variant. The CDC recommends that anyone who experiences symptoms should get tested as soon as possible.
Remember to stay safe and healthy as the Bingham Miners progress into the 2021-22 year!
Leave a Comment