Utah Changes Its State Flag
After much criticism against the current state flag, the people of Utah have come together to choose a flag that better represents the state as a whole.
For many years people have said that the current flag is too boring, outdated, and doesn't represent all of the people of Utah. The flag has only been changed 3 times since it was first presented and the citizens never had a say in it. But in January, Governor Spencer Cox launched the initiative "More Than a Flag". This initiative is meant to get the people involved and share their opinion about what they think makes Utah the place it is today. 
Utahns were invited to submit their potential designs until April 30. All of the submissions were then reviewed by the Design Review Subcommittee and 20 semi-finalist flags were selected. After the semi-finalists were reviewed, Utahns could complete a survey about what they liked, and what they thought should be included from each flag. The survey was closed on October 5th. Now the Design Review Subcommittee will send up to 5 designs to the Utah State Flag Task Force. The Utah State Flag Task Force will then suggest a new state flag to be approved by the Utah Legislature.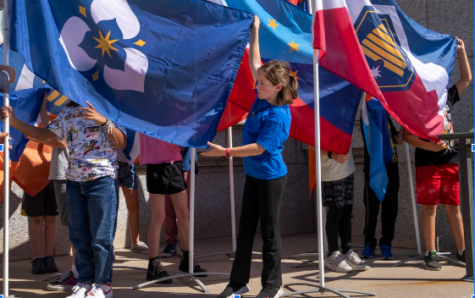 This process was designed to be able to include the citizens of Utah as much as possible. The end result will be something that represents the history, beauty, and the people of the state. Kendyl Cox, a sophomore at Bingham said that she thinks, "it might be good to have a people's opinion flag" and that "now that someone is letting them have an opinion, it will have a little piece of Utah heart in it."
It was proposed that the flag be changed so that Utahns could be directly involved with the new flag and feel represented by it. According to Kendyl it is all about the "democracy, eh?"