Rewind: 2013 Year in Sports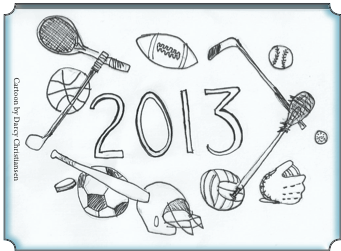 Championships, upsets, bombings, suspensions, drugs; all these things were important to the sporting world in 2013. It was quite an amazing year, so let's look back at it. 
On January 9, the baseball Hall of Fame results were released. For the first time in history, nobody made the cut. Craig Biggio was the closest at 68.2% (75% required) in a group marred by potential steroid use.
The MLB has been trying to crack down and eliminate steroid use, and on August 6 they suspended Yankees third baseman Alex Rodriquez for an unprecedented 211 games. The previous high for steroid use was 100 games. The suspension, however, was reduced to 162 games this January.
On February 3, the Baltimore Ravens beat the San Fransisco 49ers 34-31 in Super Bowl XLVII. The matchup became known as the "Harbaugh Bowl" because brothers John and Jim Harbaugh coached the two teams. The game will also be remembered for the 34-minute delay after a power outage in the 3rd quarter.
The Madness of March increased when 15th seed, Florida Gulf Coast, advanced to the Sweet Sixteen while the 9th seed, Whicita State, shocked their way into the Final Four. After Kevin Ware gruesomely broke his leg early in the tournament, Coach Rick Patino and Louisville regrouped to beat current Jazz guard Trey Burke and Michigan 82-76 on April 8th to capture the title.
On April 15, many people were getting ready to participate in the world-famous Boston Marathon. Things took a turn for the worst, however, when brothers Tamerlan and Dzhokhar Tsarnaev detonated a bomb near the finish line. Five people were killed immediately, while about 280 were injured in the blast.
People around the country were astonished, but the Boston Red Sox took it personally and gave Boston something to cheer about by winning the World Series on October 30. After winning only 69 games the year before the post season, the Red Sox rode their motto "Boston Strong" and the power of their cavemen-like beards to a 97-65 regular season record and a series of miraculous postseason wins.
LeBron James also won his 2nd straight championship ring with the Miami Heat defeating the San Antonio Spurs in an exciting 7 game series. In Game 6, with the Spurs leading the series 3-2, San Antonio was up by 5 with 29 seconds remaining preparing to win another championship. The Heat had cut the lead to three points before the ball found Ray Allen in the corner for a three to tie it up with 7 seconds remaining. The Heat won in overtime and followed it up with a 95-88 win in Game 7 .
How did you feel about sports this past year.  Comment below, let us know.  If you want more Bingham Prospector Online, subscribe with your email.