Gym Credits
By graduation day, you have to have 2.0 credits of Healthy Lifestyles and 8.0 credits of electives. It's easy to find an enjoyable elective, however, some mornings gym seems like the enemy, but some students are counting on that last credit to walk in the graduation ceremony. Of course there are other ways to get the credit but we are finding that some athletic areas are only counted as electives when some say they deserve to get gym credits too. Some of the electives get gym credit, but only in certain years if you continue them. An example of that would be the marching band. For the sophomores, it only counts as an elective, but if they continue to march with Bingham through their junior year, it counts as their gym credits. Word around the halls is that Cheerleading also receives credits. Marching Band is actually considered a ninth period as well as some others. We all know that there are a lot of clubs here at Bingham, and many of them require extensive amounts of energy and exercise. The Bingham High Mountain Biking team works and trains as hard as any other sport, but they do not receive any gym credits. They are exercising a ton, and represent our school at all the events they compete at, just like regular sports. Our fellow Miners are giving Bingham an even better rep, so shouldn't we give them something back in return? Clubs are just as important to Bingham as any of the classes, just ask any student who might be in one. Maybe they are not a class, but they are still hard working students doing awesome things for our school, so maybe credit should be given. The swim team is in the same predicament. They get up on Tuesdays and Thursdays to do dry land training before most of us have even clicked the snooze buttons on our alarms. Dry land training consists of extensive exercises to strengthen their muscles for the water. That is a ton of hard work and, the team says they can do it because they are just that awesome. That is a lot of work going unnoticed by those pesky gym credits. These are all sports, but since they are considered clubs and not sanctioned sports, they are denied any credit. This is one point that many students are pushing, they want their clubs to be considered sanctioned and important to their graduation. However it is still a work in progress. The choice is up to you Bingham, stand for a change. Gym credits certainly won't fix themselves. Whether you're a cheerleader or a mountain biker, make sure those credits are in so we can all be there at graduation. It will be here sooner than you think!
About the Writer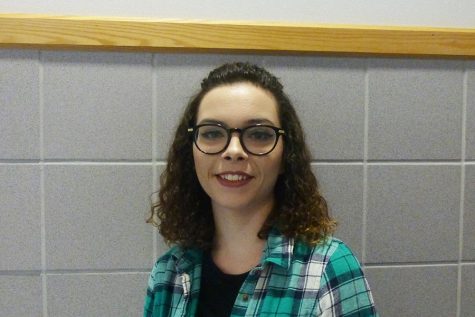 Emily Rodrigues, Opinion Editor
Emily Rodrigues is a spunky little spark who is now into her senior year and her second year of being...