What'ta Racquet
Thwack. Thwack. Thwack. Back and forth the tennis ball flies. The tightly strung racquets are flinging the ball at speeds of up to 80 miles per hour. The Bingham Boys Tennis season is in full swing.
For many of the best tennis players, like Austin Cox and Ethan Snow, they play tennis all year. The intensive preparation for the season all culminates in the spring when they get on the courts as a team and prepare to play against schools like Lone Peak, the defending state champs.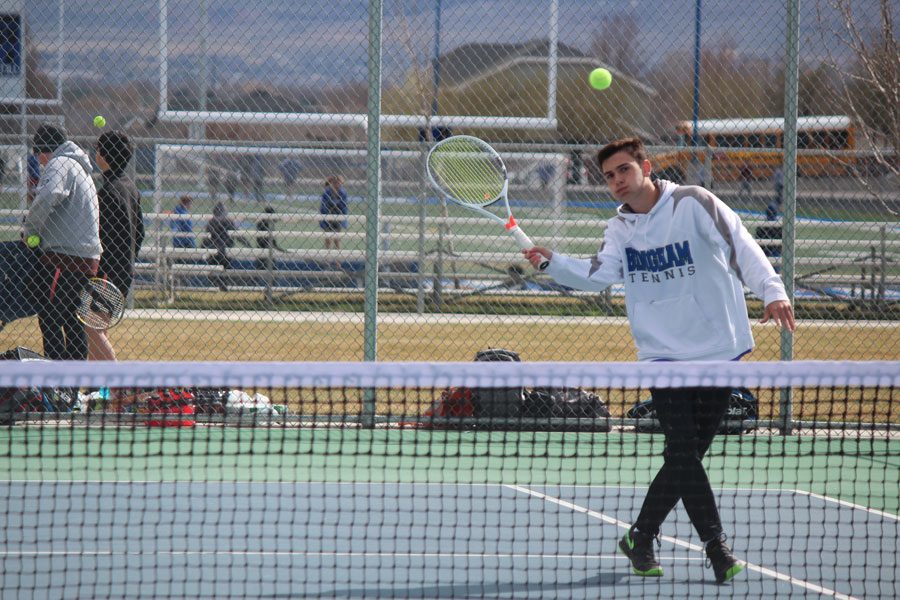 Photo by Kylee Rasmussen
Last year Bingham took second in state, only two points behind Lone Peak. This year coach Peterson hopes that they can close that point gap and possibly win state for the first time as a team.
The team captain, Austin Cox, was a part of a doubles team that won state for Bingham last year. He and his doubles partner Benjamin Crane are expected to do very well this year playing varsity second doubles. Josh Peterson, a freshman, and Cody White, a sophomore, will be playing varsity first doubles this year. Coach Peterson has very high expectations for the varsity doubles teams this spring.
Playing Varsity first singles will be junior Ethan Snow. Ethan said that first singles are where some of the best tennis players compete, so there will be a lot of very tough competition. Lone Peak's first singles player is nationally ranked, so that will be a very intense match.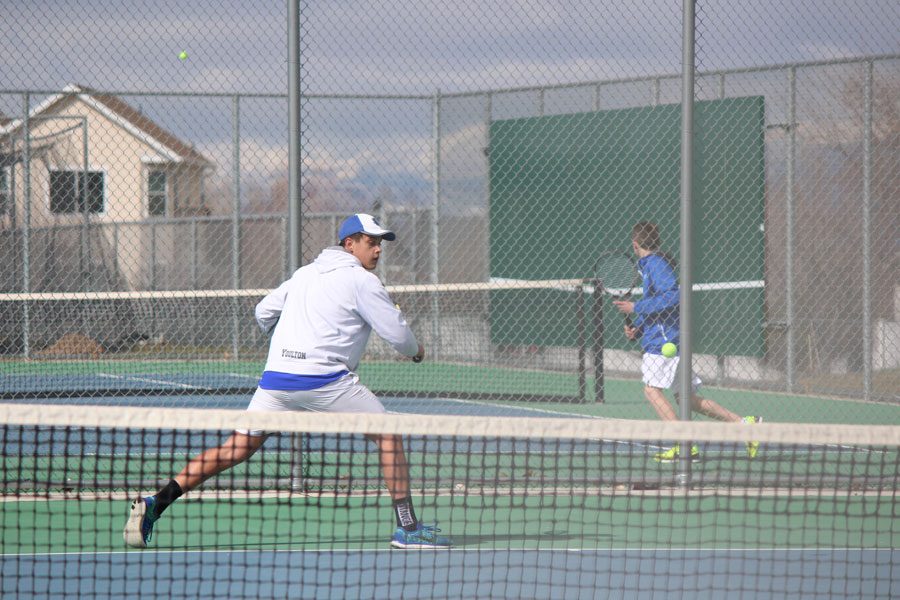 Photo by Kylee Rasmussen
Tennis is a very fast-paced game that requires a lot of skill and precision. The best tennis players play all year round and are always trying to perfect their game.
Bingham is in a very tough region that includes teams like Lone Peak, American Fork, and Westlake. The conference matches start on March 27; come to as many matches as you can and support our Bingham tennis team.