Baseball Legacy
Baseball has a tradition of excellence here at Bingham. According to Scott Crump's History of Bingham High School, the baseball team has taken state 21 times since their establishment in 1925, most recently in 2013. That is more state championships in baseball than any other school in Utah. This year, the Bingham Baseball has their eyes set on a state title for 2018.
Practices for Bingham Baseball began in January before tryouts.  At early morning practices, the team hits from 5:30 am until it is time to go to school. Since tryouts in late February, Bingham Baseball has practiced every day under coaches Sato, Sommer, Butterbaugh, and Rand. Routine practices are held after school every day and pitchers' and catchers' practice is held twice a week.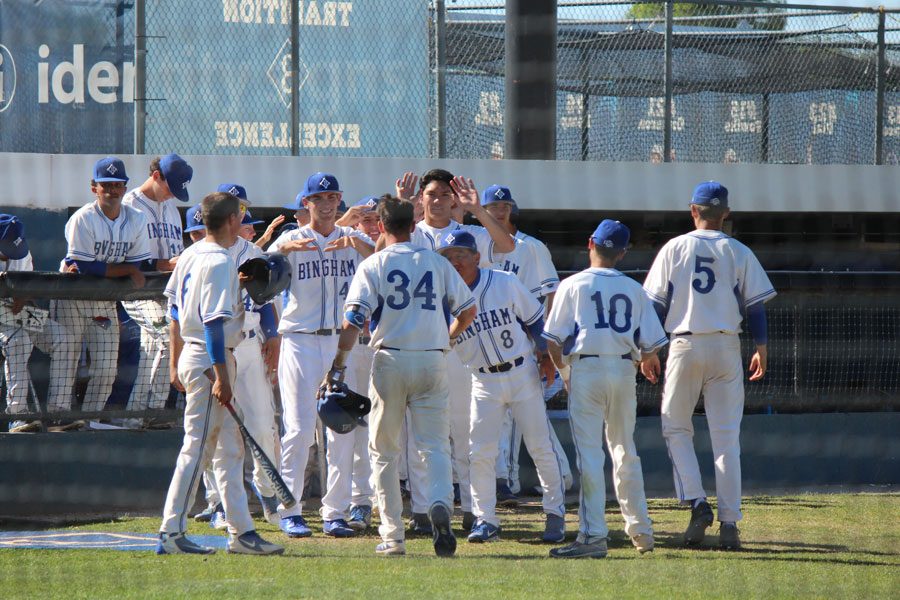 Photo by Kylee Rasmussen
Bingham Baseball is made up of three different teams: varsity, junior varsity, and sophomore. Each team plays in three games every week, and attend the others teams' games to cheer on their teammates. The teams practice together and according to Max Tolley, a Bingham junior and member of the baseball team, the players work together really well. Thus far in the season, the team has played in 22 games and has a record of 14-8. The Bingham Baseball team is working towards going to state this year.
Seniors on the the varsity team include Anderson (7), Burdette (35), Daynes (43), Dial (23), Fowlks (15), Grateron (21), Kemp (6), Soffe (5), Sofonia (45), Snarr (17), Stevens (10), Thomas (34), and Wallick (4). Although the baseball team doesn't have assigned team captains, Tolley named the senior players as the leaders of the team. He said that catcher Camden Snarr (17) and first baseman Nick Burdette (35) stood out to him as team leaders.
When asked what the best part of playing on the Bingham Baseball team is, Tolley immediately said, "The tradition. That's easily the best part." The Bingham Baseball team has high standards for themselves and is looking to win state this year. Participate in one of the greatest legacies of Bingham and go support your Bingham Baseball boys as they make their way towards a state title.