Softball
Bingham's softball team is full of strong players and even stronger friendships as they make a run for the state championship.
On Saturday, April 28, the softball team played a charity tournament for breast cancer research called Swing for Life against Copper Hills, San Juan, Clearfield, and Murray. They won three of the four games, beating San Juan 7-1, Clearfield 1-0, Murray 8-0 and losing to Copper Hills 1-3. Their next game is an away game at Tooele on May 10.
Mikki Jackson, the softball coach, said this season's competition has been unpredictable. "Everyone has had such ups and downs, it's been a bizarre year. Teams that were 0-5 start of the season are beating up on the top teams in their region." However, the team has been working hard as they get closer to the state championship and Jackson feels they have a good chance of winning. "The 6A division is as freaky, weird, and competitive I have ever seen in all my years of coaching. I think if we are on fire and on top of our game, we have just a great of a chance as anyone else to win state." Last year the team got second place at state and are using that motivation to encourage and push each other to win first this year. Jackson said, "It's a vision that they have within them and they have been working hard to try to take it to the next level."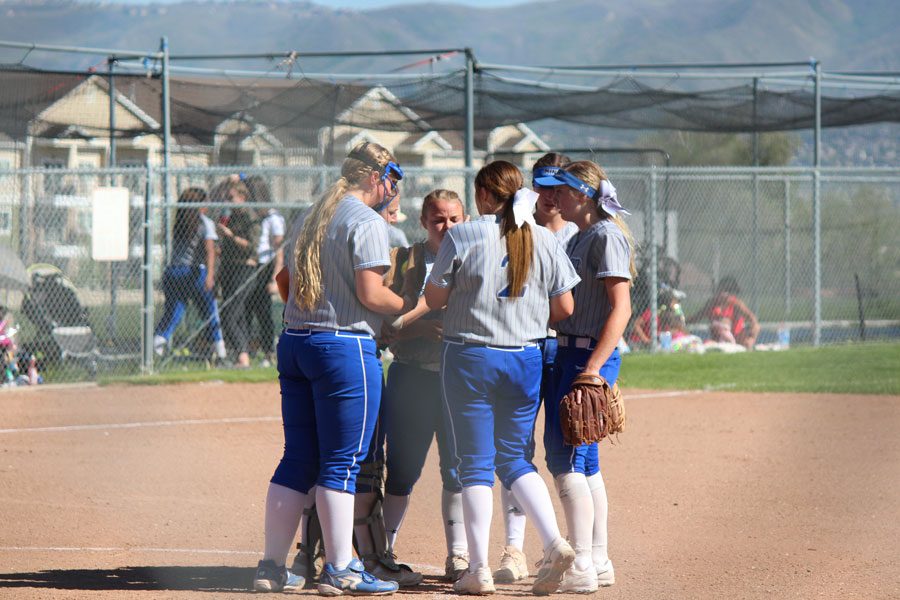 Jackson's goals for the rest of the season are that the girls stay strong in showing their support for their teammates and "continue to work on accepting roles and learning the concepts of selflessness and how that relates to success." She is proud of the camaraderie the team has and the effort the senior players have put in creating feelings of family and acceptance that the younger players can feed off of. This camaraderie has led to some deep friendships which Jackson says is huge for a team full of females.
Wall said the best part of the softball team has been the other teammates. Nicole Wall, a senior and team captain, said, "We're really a sisterhood so you get to spend a whole lot of time together and it's really some of the best times of your life because you get so close with everyone." Kenadee Moore, another senior and team captain, agrees, saying, "I love the teammates, first of all. Playing softball every day is definitely fun and being a part of that environment and people that feel like family."
With less than a month left in the season, the softball team advances towards the state championship bringing their close friendships and competitive nature with them.