Softball Currently Ranks No. 2 in 6A
The girls, without any runs of their own, are down by three. The clock is ticking as the game is getting closer and closer to finishing. Averi Hanny, a Bingham senior, steps up to the plate. With her best effort, she swings and hits a triple, running two girls into home. The score is now 2-3, closing the gap. 
As the innings continue, the Bingham miner girls pull ahead of their rivals by getting two more runs, making it 4-3. At the top of the 6th, with enthusiastic effort and grit, the Bingham girls score once more, bringing the game to 5-3. With determination to keep up, Herriman girls step up to bat and score one more run. But the Bingham girls defend their lead, winning the game 5-4. 
This was one of their more recent games against Herriman that added to their overall record of 20-2. Bingham girls varsity softball hold on to their No. 2 ranking in 6A Softball.
This outstanding record doesn't just come from showing up to practices and games. By spending 10-15 or more hours every week, these players dedicate their time and energy to the sport. This dedication, enthusiasm, and grit, intertwined with their love for softball, propels them towards greater success.
The success and record of the team is not the only thing to admire. Their focus and preparation for each game drastically impacts not just the score, but the players themselves. For each game, they set goals to accomplish and work hard to prepare individually to be their best self. They work hard as individuals to better their team.
Averi Hanny, a senior pitcher and third baseman, said, "My teammates are amazing. They are always so supportive. They are always upbeat … It's a really good environment. It is a good way to have fun while getting to compete and do something you love." 
Coach Mikki Jackson, who has coached Bingham softball for many years, has continued the treasured traditions that bring the team together. Team dinners and parties deepen the team's love of the game and the connection they share. The bond between the girls is what makes the Bingham Softball team so special. 
Hanny said,"Getting to know each other and getting to play with each other creates that bond. When we are together a lot, it makes us play even better and have more fun."
Just like every other sport, COVID-19 placed several protocols into the environment. With all the needed social distancing, mask wearing, limiting interactions, testing, etc. the team has continued to enjoy a fantastic season. Even though they have to remain socially distant, they still cheer together as a team and bring in the Bingham spirit.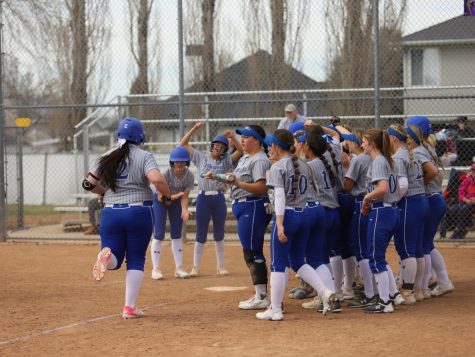 Charity Drake, a sophomore catcher, said "[Cheering] reminds us that we're not just playing because we are a softball team, but we are playing because we're part of Bingham… Even when we're not with each other, we still feel like we are when we cheer." 
Softball is more than just a game. The skills and lessons the girls take with them shape their character, on and off the field. Softball helps them become who they want to be. When having a bad day, softball is an outlet and a relief from the stresses in everyday life. 
Drake said, "You can hold a lot of stress within yourself… for me just the love of softball makes it easier for the stress to go away when I'm doing the physical activity. I think mentally there's a lot that you learn playing softball… it's helped me to be a more positive person and to be able to work with people."
Next year, two Bingham seniors will continue their love for the game at the next level. Averi Hanny will play for UVU and Emily Dority will play for Utah State. 
Leave a Comment