Miner Softball Season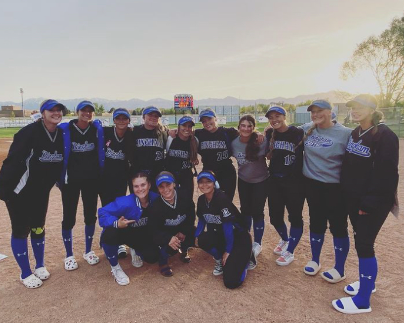 The softball team here at Bingham started off with a great win, 9-4 against the Weber Warriors. Now that the year is ending, they have a total of 22 wins with many winning streaks, 7 being their highest. Their last season game was a home game against Lone Peak. Our Miners won 11 to 1. Now, they are second in Region. They play in a playoff game today against West.
Bingham's Varsity team ranks 2nd place overall in Utah but getting there wasn't easy. The softball team goes through tough conditioning and workouts. Chloe Latu, a softball player here at Bingham, states, "We condition pretty hard especially during our 4th period workout class." In addition to their coach, Mikki Jackson, the team is also supported by Bingham's athletic director, Andee Bouwhuis, who plans out their workouts and supports them as a team. "Her help has made us stronger as a team physically and mentally," said Latu.
Their bond as a team is what has definitely taken them to the many wins and achievements this year. Latu recently had surgery and hasn't been able to compete with the team at the end of their season. She said, "It's definitely been a hard time not being able to play with my team but I know we are going to do great things these next two weeks." Among the many accomplishments of the team, two seniors, Noe Barawis and Chloe Peirce, will take the sport to the next level and play in college. Latu stated, "I could not be more proud and excited for them."
Leave a Comment