A Look Back Down the Stretch
After a long season that has been a roller coaster of emotions for players and fans alike, it's time to look back at this team's accomplishments and shortcomings. Looking at Bingham's playoff run, one thing becomes clear: it was an uphill battle from the beginning. In the two playoff games preceding Bingham's loss to Skyridge, the game was ultimately decided by the final quarter, which is never a good sign of things to come for a team looking for a state title push. Bingham's best quality this season is being able to finish easily winnable games, and when Bingham fell behind in the game against Lone Peak, there was a concern whether this team had enough left in them to carry them over the finish line; a notion they found laughable as they finished the landing to hold a confident lead all the way down to the final seconds. That gritty determination wasn't enough when they faced a two-headed juggernaut boasting a dual threat offensive that could take the top of the defense or destroy you in the trenches, as well as a defense that thrived on taking advantage of any mistakes that the offense gives.
Skyridge heading into the game looked the part of a state title contender, and this game was shaping up to be a David vs. Goliath story for Bingham. However, this game turned out to be in the vein of a much different story: Cinderella. Bingham's run ended as soon as the clock struck 12, and that same offensive magic couldn't hold its own against a team looking to make a statement victory. Skyridge certainly did make a statement, and unfortunately, Bingham became the punching bag in a game that simply would not end. Skyridge managed three turnovers in the air, and their defensive line blew up plays in Bingham's backfield before they even started with 10 total TFL, two sacks, and five QB hurries, allowing Skyridge Defensive Tackle Iakopo Malufau to have an astonishing statline 3.5 TFL, 1 Sack, and 1 QB hurry. Holding Bingham in a vice, Skyridge were able to deliver a decisive loss that unfortunately would be Bingham's last this season.
However, this game still had its bright spots for Bingham on both sides of the ball, showcasing our talent and willingness to continue pushing forward even when faced with impossible odds. Carson Sudbury had himself a field day even against a lethal Skyridge defense, and while only being able to rush for 30 yards and 1 touchdown on 15 attempts, it was his elite level play as a receiver that gave him a statline to be remembered, with 140 yards on 8 receptions, hauling in two touchdowns in the process. Bingham's defensive staple this season, Benjamin Latai, unsurprisingly had one of Bingham's best defensive performances this game with seven Solo Tackles, two TFL, and one QB hurry leading the team in all three categories. Finally Cameron Mamalis had statistically the best performance in Bingham's secondary tacking on 3 Solo Tackles and recording Bingham's only interception of the game.
Now that the playoffs are over, we can take a look back on the season and dole out some acknowledgement for some of the best and most consistent players. Starting out, much appreciation has to be given to our starting quarterback Dallen Martinez. Dallen has been the engine that kept our offense running this entire season, amassing 793 rushing yards on 163 attempts and 1,597 passing yards on 170 attempts, ranking top 50 in Utah in both categories (positionless), while also being tied for 12th in Utah in terms of QBR with a average rating of 111.8. Next, when looking at our rushing game this season, two equally talented players deserve the spotlight: Havea Fotu and Carson Sudbury. Both locked down an impressive year individually, with 849 yards on 126 carries for 11 touchdowns, and 751 yards on 136 carries for 13 touchdowns respectively; placing both of these players in the top 60 of Utah rushers in overall yards amassed and both carrying impressive averages with 6.7 y/c and 5.5 y/c respectively. Havea also possessed qualities in a player that are immeasurable, but certainly not unnoticed. When one of his teammates, Jace Tupea, was asked about who some of the players that helped lead the team were, he said, "For me, Havea was one of the more vocal leaders for the whole team."
Moving on to our receiving core, two players stole the show, with a familiar face in Carson Sudbury as well as Maddox Peck. Both had equally important roles in the offensive hauling in 594 yards on 48 receptions for six touchdowns and 549 yards on 36 receptions for 5 touchdowns respectively. Carson, a hybrid Halfback, always created problems whenever he lined up in the backfield, leaving the defense open to getting torched on the ground, or burnt in the air. Maddox Peck, while strictly a receiver, made excellent strides this season, providing a much needed deep threat down the field to take the top of the defense, and leave breathing room for the ground game to thrive.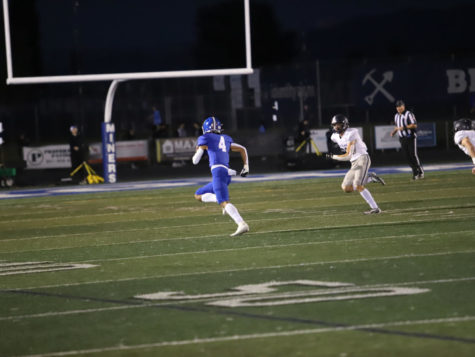 It's also important to note a section of the team that doesn't get much attention, but deserves much more belated adoration: our offensive line. Our offensive line has been a brick wall all season long. Stuffing edge rushers and defensive tackles alike to give more time for our quarterback who has thrived under the lack of pressure incoming. The two leaders in pancake blocks this season are Sonasi Pouha(G/C), holding the highest number with 110 blocks, and Fotu Lavaki(G/DT), comfortably holding down second with 86 blocks. It's important to realize that everything on offense begins in the trenches, and every member of our offensive line has given the opportunity for the offense to excel.
It's time to look at the other side of the ball, and on the flip side of the coin we will be taking a look at our defensive line this season. It's no secret that there were some questions regarding our front four, and their ability to stop the run, especially heading down the last stretch of the season. However, it's as though they heard all of this criticism and went into every game with a purpose, and they certainly delivered. Since my own article addressing the run defense we have not allowed any running backs to have a game exceeding 80 yards or one touchdown, which is exactly what every fan wanted to see: a defense willing to step up to the line and stop the opposing offense dead in their tracks. 
With that, some members of our defensive line had truly exceptional years, those being Benjamin Latai(DE/OLB) and Jaice Tupea(DT). Benjamin Latai had far and away one of the most consistently dominant defensive seasons in Utah, being tied with first in the team in both TFLs and QB hurries, leading the team in sacks with a stellar season. Racking up 8 sacks, 6 TFLs, 1 FFC, and 16 QB hurries, it's clear to see why he is among the best players on the field whenever he laces up. Next is Jaice Tupea, whose outstanding season is made even more impressive considering this is only his sophomore season. He is ranked #5 as Utah's best defensive tackle, and by simply looking at his stat sheet it's clear to see why. He has raked in 6 TFLs, 4 sacks, and 3 QB hurries. His presence on and off the field cannot be understated, and it's clear to see Tupea is going to be a difference maker in upcoming seasons.
Before moving onto our linebackers, it is important to note the difference between off ball and on the ball linebackers. Off ball linebackers don't consistently rush the passer; either sitting in zone coverage or sprinting down the field, traditionally following either the TE or HB. On the ball linebackers are usually pass rushers who come flying in off the edge or down a seam to either sack the quarterback or try and blow up a play in the backfield. With that being said, some of these players will have drastically different statistics, but it's important to realize that every player mentioned played exceptional for their position and role. 
Our three most impactful linebackers for this team (excluding players already mentioned) were Cooper Valencia(MLB), Kaden McBride(MLB/OLB), and Tyson McBride(OLB). Kaden McBride led the team with 92 ToT Tackles, tied comfortably at 30th in the state for tackles as well as 5 QB hurries, 1 int, one FFC, and 1 pass deflected. Kaden didn't have too many explosive moments, but it was his consistency as an open field tackler and as a safety valve in the run game that made him a cornerstone to this defense. Cooper Valencia played as a swiss army knife across the field, able to slip into coverage, disrupt the rushing attack, or get to the QB. He finished this season off with 84 ToT Tackles, one TFL, 2.5 sacks, 5 QB hurries, and 1 int, showing off his ability to do a little of everything on the field and fill whatever role the team needed from him this season. Finally, we have Kaden's younger brother, Tyson McBride, who was astonishing this season. With clear field vision and quick decision making, he was able to put himself exactly where he needed to be. He finished the season with 67 ToT Tackles, 1 sack, 4 QB hurries, 5 pass deflections, and 2 interceptions. Tyson might not have the tenure of his older brother, but his intangibles have made him a revelation in our linebacking core, providing a crucial factor in key situations, high pressure games, and especially on money downs.
Now we have reached the secondary of this team, which held some astonishing talent at their respective positions. These players were Cameron Mamalis(CB, FS, SS), Kyler Marsh(CB), and Beau Hamilton(CB). Cameron Mamalis has elite level athleticism due to his history with track, and it clearly showed on the field, as over the season he accumulated 84 ToT Tackles, 4 TFLs, 1 QB hurry, 4 pass deflections, and 2 interceptions. Kyler Marsh played this season with an expert-like balance between mental awareness and great physicality. He finished his senior season with 33 ToT Tackles, one TFL, 6 pass Deflections, and 2 ints, with these stats not doing justice to his ability to close out open field tackles, follow the QB, and keep plays contained with elite close-out speed. Beau Hamilton was a mind-boggling pass defender as his ability to break up the pass in the air was unparalleled all season long, finishing the season with 30 ToT tackles, 1 int, and 16 pass deflections. All season long, Beau was able to find a way to get his hands in front of the ball and stop a potential reception dead in its tracks.
Now that the season has come to an end, we are given an opportunity to look back at our school's team this season, and appreciate the intensity, work ethic, and intelligence put on display every day by each one of our players. Though not every player on this team was mentioned, it should be remembered that every player was instrumental in the combined cohesion of our team as a unit. One thing that tends to go unnoticed by the fans is the connection that these players build with each other over the course of a year. Every year it's a shame to see the bond built between all the players be lost, a notion not unnoticed by Cameron Mamalis, who said, "I will definitely miss being with all of the boys every day, because we have been together since last December, and it's a little rough from going to see them every day, and now I hardly see some." That's the cycle of football however, and it was a privilege to watch every player on this team grow and develop on and off the field this season.
Leave a Comment
About the Contributor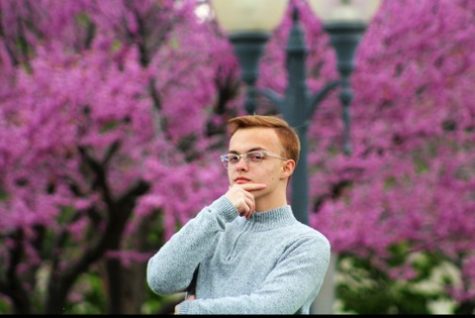 Christian Larett, Sports Editor
I love watching sports, being able to analyze the smaller details, and nuances in every moment. I particularly...