Shrek: The Musical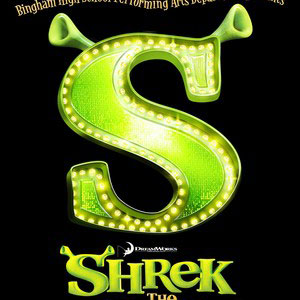 Shrek: The Musical by William Steig, as directed by Liz Smith, was a "spectacular" success. For the four nights it ran, Shrek filled the auditorium with enthusiastic fans. Although the production ran much longer than a typical school musical– a three-and-a-half hour show isn't something to sneeze at– the cast filled the time with well-timed jokes and tear-jerking scenes.
Part of the magic was the phenomenal costuming. Each ensemble member had their own unique character and costume, rather than the typical copy-paste effect. Costumes were used from theaters across Utah, from Tuacahn's dragon to Elk Ridge Middle School's Lion King animals. Individual cast members truly believed in who their character was every moment they were on the stage.
As far as the technical side, some scenes fell flat. The microphones were the biggest issue. For some of the lesser leads, the mics simply didn't turn on. I understand, we're a high school and can't afford new mics every year, but that wasn't their only issue. The mic levels were messed up, depending on the scene. Often, the passing music, such as "Travel Song" and "Don't Let Me Go" had blasting sound that made the audience wince.
The most powerful songs– "Build a Wall" and "Who I'd Be"– were whispers in contrast. Moments rich in desperation and longing lacked the volume that could have driven the point into the audience's hearts. Volumes vary by performance, but a lack of control was consistent.
Always go to a musical twice. Go the first time for the story itself and the second for the little quirks of each performance. Every performance has its moments of improv; the actors are so in character, though, that the audience likely won't notice until they see what the dialogue is meant to be. Lord Farquaad, also known as Dylan Burningham, had the most improvised lines between performances. He'd be in the middle of one of his many rants, and he starts randomly adding in lines that only added to the hilarity of his character.