Yackelyn Canales
Some think theatre is just a pastime but nearly every student in a theatre class is extremely dedicated to this hobby. People like Yackelyn Canales, a dedicated, talented, hardworking, aspiring actor further prove that this is true. Although Canales finds theatre really fun, she continues on with it for a very good reason.
Canales performed in her first musical in Elementary School apart of the ensemble in "The Little Mermaid." She said, "I'm in the ensemble a lot, but we all know that ensemble is the most important part of a play." Even though Canales said that jokingly, this quotation is true. Everyone wants to have a lead role and to be in the spotlight, but not everyone can fulfill the criteria. John Lithgow and actor in "Interstellar", "Pitch Perfect" and "Once Upon a Time" said that "The most exciting acting tends to happen in roles you would never play." This further proves that, when cast in a role you wouldn't conventionally choose for yourself, you might have the most fun and the most memorable experiences. Even though you might not get the most on stage time, or significant solos, the ensemble is still detrimental to the play and adds dimension to the story
While Canales can mostly be seen in the ensemble that is about to change. In the Musical Theatre Show Tune Compilation coming up at the end of the year, Canales will be singing "Without Love" from Hairspray as Tracy Turnblad. Canales also played Lavender in the play Matilda and most recently was Merryweather the blue fairy in Shrek: The Musical.
Canales has taken many theatre classes this year like Theatre 3, and the aforementioned Musical Theatre. Canales' favorite part about theatre is "making other people smile and making people laugh. I love to see all of the different reactions you can get from a crowd" Canales loves theatre, because it's where she has met so many of her friends there, and she even admitted that Theatre has helped her overcome some difficulties concerning social anxiety. Canales said that performing in front of others and putting herself out there has really helped her become more social and open.
Canales admitted her admiration for the theatre teachers here at Bingham saying that "I love the teachers. They not only help me grow, you can see everyone in theatre grow in their own way." She loves the entire theatre environment so much that Canales hopes to act professionally. She would love to be in commercials, TV shows, movies and she hopes to even write a play sometime in the future. Along with her hopes for acting, Canales would love to teach Theatre and inspire others the way her teachers did for her.
People like Yackelyn Canales prove that one can put away their fears and worries and overcome them doing a hobby that they love. From now on, anytime you'll hear of Tracy Turnblad, think of Yackelyn.
Leave a Comment
About the Writer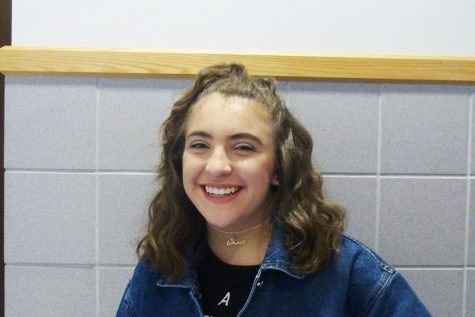 Maddy Reagan, Staff Writer
Maddy is so excited to be on Bingham High Prospector this year! In her free time, you can find Maddy...