"Ratatouille" has a new twist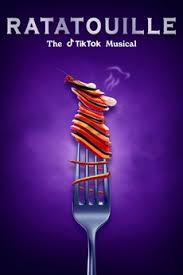 Anyone can cook, including a rat that won the heart of food critics and audience members alike. The beloved rat from the past, Remy, from "Ratatouille" is back! There is now "Ratatouille" in musical form. This is called the TikTok Musical because TikTok was where it all began. 
The "Ratatouille" musical started from a video by Emily Jacobsen. She made a little song about Remy being the rat of her dreams. This video went viral all over TikTok. People were making videos with her song. Jacobsen's video reached the eyes of Daniel Mertzlufft, a composer and arranger. This is when the "Ratatouille" musical movement started. 
Now I hadn't heard much about the TikTok Musical and when talking to my classmates, they hadn't either. This is because that first video was only posted in August of 2020. The world of TikTok connected enough people that they created a musical in six months. This is a musical that anyone can watch because they have a full version on Youtube at https://youtu.be/joshYixi2vw 
"Ratatouille" has always been a great movie. It had fun scenes and great characters. So maybe this new musical seems a little scary because it might ruin a wonderful movie. I get it. While there are differences between the movie and the musical, they kept the storyline pretty close to the original. They gave songs to every character, which may seem like a lot but they were funny and moved the story on in a great way. The musical is only 50 minutes long, but it is worth watching. Many people thought that it was a funny twist on the story.
Because of this musical, the Actors Fund has raised over $200,000. This is a national charitable organization. The organization helps actors all over the country, and includes everyone in the entertainment industry who might be in need of assistance. The Actors Fund also has many programs to help people in many different ways. This means that since they have raised this much money, they can help more people. Many in the entertainment industry have lost jobs or opportunities because of the COVID-19 pandemic. It has shut down many plays, T.V. shows, concerts, and other things that these people earn money from. This fund helps them during this time.
TikTok isn't just good for wasting time or goofing off, it can do great things and connect people. From such a little funny video about a rat, a big thing took hold. I can't wait to see what's next. COVID-19 isn't the only thing that can change the world.
Leave a Comment