Sleep vs Grades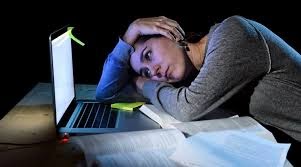 When's the last time you got a full night's sleep? If you're like most high school students, the answer is probably so long ago that you don't even remember. The difference between getting enough sleep and not getting enough sleep can affect all areas of our lives. According to the Center for Disease Control and Prevention (CDC), the average teen needs about 8-10 hours of sleep a night. However, in a study conducted by the CDC, they found that only about two-thirds of high schoolers get this much. Why is this and why should it matter?
Often at the end of a long day, it can feel like a choice between sleep and other things, one of the prevailing distractors being grades. We are trained from a young age to value education and doing well in school. But should we value grades over sleep and our overall health?  Some people believe that, yes, there are more important things than sleep. I've known of many students (myself included) who have forgone a good night's sleep in order to make sure all their homework is ready to be turned in the next day. This is especially a problem among those students with a busy schedule, who have no other option but to stay up for hours completing their homework. I've also known others who say that even if you have to turn in a project late, a full night of sleep is more important. So who is right, should sleep or grades be valued more highly? The issue essentially lies in our personal priorities, but when most people choose grades over sleep, they often don't think about the negative consequences that lack of sleep has on their health. 
There are many diseases that have been linked to a lack of good sleep. According to the CDC, people who don't sleep enough are at a higher risk for diabetes, certain heart conditions, obesity, and depression. These aren't just small increases in risk either. For example, people who don't sleep enough are at a 22% risk for having depression, compared to only 14% for those who do sleep enough. In addition to these chronic conditions, a lack of sleep can also contribute to a weakened immune system, which can leave you more vulnerable to infections and even lead to a higher risk of developing cancer. Aside from these major concerns, those who don't sleep enough overall feel worse and have a harder time focusing throughout the day. So what does it matter if we're successful in school or our careers if we aren't healthy enough to enjoy it?