Best Cookie Shop in Salt Lake County
Biting into the perfect cookie is one of the best feelings in the world, but what do I consider the perfect cookie? My "perfect" cookie would be thick, chewy, sweet, pretty, have a good overall flavor, and if it has frosting, it must be sweet but not overwhelmingly sweet. 
I decided to try Crumbl, Chip, Local Cookie Co., and RubySnap and rank them. I created a scale to rate the cookies based on the different factors, including sweetness, thickness, presentation, chewiness, frosting (if applicable), and overall flavor. The higher the rating for a factor, the better the cookie. The lower the rating is, it is either the opposite of the factor or just downright terrible. 
I started all of this research by putting an Instagram poll on my story for 24 hours asking people what their favorite cookie shop is. This is so I could see if I agreed with the majority of the participants. RubySnap was the underdog of my poll, pulling in only 6 votes. Crumbl dominated this poll with a whopping 73 votes. Local Cookie Co. received 15 votes, and Chip received 12.
Crumbl
Crumbl is the most popular of the four shops I tried. They started their business in Logan, Utah, in 2017. They're known for switching four to five of their flavors every week, usually keeping Chocolate Chip and their Pink Sugar Cookie in their rotations. They've been gaining popularity from this since many people upload their reviews to TikTok. Their shops usually are painted their signature pink color creating a very fun atmosphere. 
I have tried many Crumbl cookies, but for the purpose of this article, I ranked their Chocolate Chip cookie and their Birthday Cake (Valentine) cookie. The Chocolate Chip cookie is a classic brown sugar cookie base with milk chocolate chips. However, it is somewhat of a thick cookie, and the chocolate chips are bigger than normal. This cookie got a total score of 7.9 out of 10. It received a 7 in thickness, 8 in sweetness, 8.5 in chewiness, 7 in presentation, and a 9 in overall flavor. 
The Birthday Cake (Valentine) Cookie is a cake batter-flavored cookie with cream cheese frosting and heart sprinkles. The Birthday Cake (Valentine) Cookie received an 8.9 out of 10. It got a 7 in thickness, 9 in sweetness, 8.5 in chewiness, 10 in frosting, 10 in presentation, and a 9 in overall flavor as a cookie. 
In total, Crumbl received an 8.4 out of 10 as it is a great place to get cookies, but it is a bit overrated compared to the other shops I tried. 
Chip
Chip is a family-owned company and says they created their business after Sarah, the wife of Sean, had pregnancy cravings for a chocolate chip cookie at midnight. They state that they built their company "out of love and a desire to deliver happiness, one cookie at a time." Unlike Crumbl, this shop only switches out one flavor every week, and they keep their OG Cookie, Biscoff Chip Cookie, and their Sugar Chip Cookie in their weekly menu. They have a modern and sleek look to their shops, creating a more luxurious vibe when you are visiting. 
I went with my friend Bella Klinzing in order to get a second opinion. We tried their Oreo Chip Cookie and their Sugar Chip Cookie (Valentine's Day Edition). The Oreo Chip Cookie was a brown sugar-based cookie with Oreos baked in it. It received a 10 in thickness as it was the thickest cookie I've ever had. I gave it a 9 in sweetness. It received a 10 in chewiness for being so gooey. I gave it a 6 in presentation as it was plain-looking. For overall flavor, I gave it a 9. Although it wasn't the prettiest cookie, altogether, it received a 9.4 out of 10. 
As for the Sugar Chip Cookie, it was a sugar-based cookie with almond frosting and pink sprinkles. This cookie was by far the prettiest cookie; however, it received a 7 in thickness as it was a bit flat. I gave it a 9 in sweetness. It would've been a 10 if the frosting wasn't overly sweet. It received an 8 in chewiness since it wasn't as gooey as the Oreo Chip. I gave it a 7.5 in frosting because I'm not the biggest fan of almond-flavored sweets. Bella and I decided to give it a 10 in presentation and a 7.5 in flavor. Overall, these ratings brought Sugar Chip to an 8.2 out of 10. 
"I liked Chip's cookies because they don't make me feel sick after taking a bite, unlike other cookies," concluded Bella. Chip received an 8.8 out of 10 all in all. 
Local Cookie Co.
Local Cookie Co. started their family business after making cookies for a bake sale and donating the money to charities. However, people started asking them for more cookies when their bake sale wasn't happening. Therefore, Local Cookie Co. was created. They also switch their cookie flavors, only keeping a few of their classic flavors, such as Chocolate Chip, in their rotation. 
I tried their Chocolate Sandwich, which had two chocolate cookies with cream cheese frosting in the middle. The frosting was the perfect amount of sweetness, and the cookie was thick. I gave this cookie a 9 in thickness, 9 in sweetness, 9 in chewiness, 9 for the frosting, 7.5 for presentation, and a 9 for flavor. Overall this cookie got an 8.75 out of 10.
I also bought their Sugar Cookie. This cookie had buttercream frosting, unlike Crumbl and Chip's sugar cookie, which had almond-flavored frosting. I really enjoyed this cookie as it was plain yet sweet and soft. I would rate it an 8 in thickness as it wasn't super huge but rather just right for a quick dessert. I gave it a 10 in sweetness. It was just the right amount of sweetness! As for chewiness, I gave it a 7.5 as it almost goes hand in hand with thickness. The frosting received a 9. I gave it an 8 for presentation as it was plain, but the frosting was neatly spread on the cookie. As for overall flavor, I gave it an 8. It was nothing spectacular but pretty solid for a sugar cookie. These ratings brought their Sugar Cookie to an 8.4. 
Overall Local Cookie Co. got an 8.6 out of 10. I would definitely go back and try some more of their complex cookies since their "plain" flavored cookies were so yummy!
RubySnap
Finally, I tried RubySnap. RubySnap is probably the most unique cookie shop I visited. It is described on their website as "A brand fashioned after an infatuation with the WWII era and an idealism of yesteryear when fresh food meant cooking from crops in season and enjoying the full flavor experience of real ingredients." Their cookie flavors tend to be named after common girl names from past years. I tried the "Mia" and the "Scarlett" cookies. 
The Mia cookie is a vanilla bean-based cookie with buttercream beet frosting. Although the frosting contains beets, you can't even taste them. I gave it a 9 in thickness, 10 in sweetness, and an 8 in chewiness. I rated it a 10 for the frosting since it was the best frosting out of all the cookies I tried. I gave it a 9.5 for presentation and a 10 for flavor. All in all, the Mia received a 9.4 out of 10. 
The Scarlett cookie is a red velvet-based cookie with cream cheese frosting. I gave this cookie a 9 for thickness and a 10 for sweetness since it was the perfect amount of sweetness. It got a rating of 9 for chewiness, 10 for the frosting, 10 for presentation, and 10 for flavor. It received an overall rating of 9.6 out of 10. 
RubySnap as a whole received a 9.5 out of 10 rating from me. I would definitely recommend this shop for anyone who is willing to branch out and try more unique flavors.
Final Results
All in all, Crumbl surprisingly was in last place despite its popularity. Local Cookie Co. came in third place. Chip came in second place. RubySnap came in first place. I believe RubySnap is the best local cookie shop because they have 20 flavors at their shop, unlike the other shops I rated. Most of the others only had 4-6 flavors. Not only do they carry a better variety, but they also use all-natural ingredients. Who doesn't want to feel healthy(ish) while eating a super delicious cookie? I think their theme is also really unique and cool! I recommend that more people branch out and try another local cookie shop next time they are craving a cookie because even though Crumbl cookies are really good, you may find an even better cookie at another shop! 
Leave a Comment
About the Contributor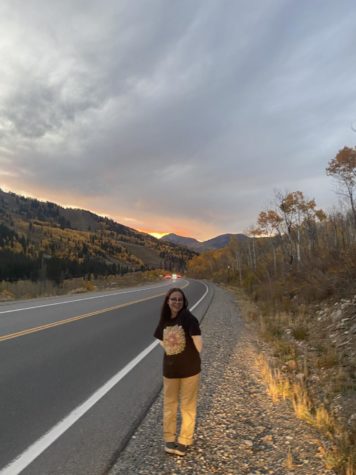 Ximena Santana, Staff Writer
I am a senior and enjoy hanging with friends, listening to music, and working at Dutch Bros!