Raising Canes Vs. Chick-Fil-A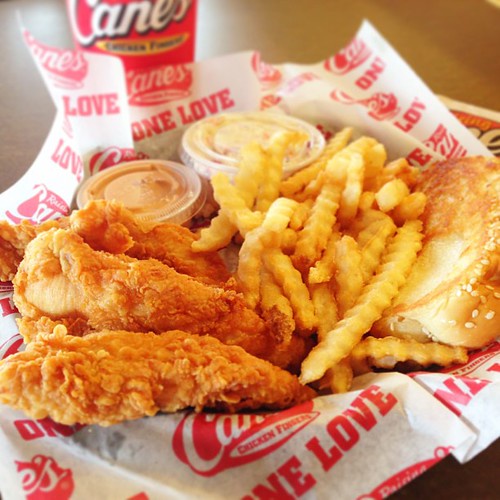 Raising Canes started with a chicken-loving guy named Todd Graves. Graves started out in college going into business school. He got terrible grades and whenever he brought up his chicken idea people always turned him down. After college, he continued to chase his "chicken dream" but worked at other places to save up before starting a restaurant. He started saving money as a boilermaker working around 90 hours a week. After working as a boilermaker, he moved to Alaska to catch Sockeye Salmon in extremely dangerous conditions. When he came home from Alaska, he had enough money to get an SBA loan to open his first restaurant. The "Mothership," the first restaurant, was opened at the entrance at Louisiana State University (LSU). The first Raising Canes was officially opened in 1996 and has been successful ever since with over 530 locations across the U.S. and the world. 
Chick-Fil-A started in 1946 in Hapeville Georgia with the first restaurant called "The Dwarf Grill" owned and operated by the Founder S. Truett Cathy and his brother Ben. After a name change in 1946 to "The Dwarf House" the company continued to grow and get bigger. The first-ever Chick-Fil-A was opened in 1967 in Atlanta in the Greenbriar Shopping Center. Chick-Fil-A is now one of the largest fast-food restaurants in the U.S. and is growing every day.  
Now for taste, Raising Canes and Chick-Fil-A are two very different genres of Fried Chicken. If you want fast and ready-to-eat food then Chick-Fil-A is the place for you. They have a very fast drive-thru where their mission is to help you enjoy your chicken as fast as possible. Chick-Fil-A offers many different breakfast, lunch, and dinner options such as salads, chicken sandwiches, and even macaroni and cheese. 
Canes however is very different, they get their popularity from social media platforms such as Instagram, Twitter, and TikTok. One of the TikTok challenges is getting a whole canes cup and filling it with their famous Canes sauce then dipping all the stuff on the menu in it. If you want authentic and crunchy, juicy, and tender chicken, Canes are the go-to place for that. With only a few things on their menu, chicken tender sandwich and different sizes of chicken baskets, they are more successful with flavoring and the overall appearance of genuine fried chicken tenders.
We did a poll of Bingham students to figure out which chicken place is best and Chick-Fil-A took the cake with a whopping 84% whereas Canes had 16%. So with that, I will conclude "Eat Mor Chikin."
Leave a Comment