Harry's House
Harry Styles, a singer, songwriter, actor, and fashion icon has released his new pop album titled, "Harry's House." He released his first and only single from the album, "As It Was," on April 1. The song broke a Guinness World Record for the most streamed song on Spotify by a male artist in 24 hours, as it received over 16 million streams on release day. 
The album itself has also made the charts. On Apple Music, the album had the most first-day streams on a pop album in 2022—within the first two hours of its release.  
His most popular song of all time, however, is "Watermelon Sugar" and it has over 1.75 billion streams on Spotify. His songs "Adore You" and "Sign of the Times" have also reached the one billion streams mark. 
"Harry's House" is Styles' third album and his most personal album so far. In his single "As It Was," he sings about his family life. "I try and write from personal experience for almost everything," said Styles. While the song doesn't state it directly, listeners have speculated that this song is about Styles' relationship with his father. 
Styles' most emotional and tear jerking songs on the album are "Matilda" and "Boyfriends." He wrote Matilda about a person he knows but has disguised it as being about Roald Dahl's character Matilda. In an interview with Zane Lowe, Styles summed up the song: "I wanna support you in some way. But it's not necessarily my place to make it about me; cause it's not my experience. Sometimes it's just about listening. I hope that's what it did, I hope it just says 'I was listening to you.'" 
The track "Boyfriends" is about how bad some boyfriends and relationships are. Styles reported that it's about his own past relationships and also about other relationships he's witnessed throughout his life. 
One of the happiest songs on the album is "Late Night Talking." It captures the beginning of a relationship where two people just want to get to know each other and spend every second with each other. Overall, the songs on the album are very fun and at some points, emotional which really brings in Harry Styles' goal of making it a very personal album. 
Ellie Jacobsen, a Bingham student, stated "I love this album and it couldn't have been any better." Ellie has been a fan of Harry Styles since she was 10. She thinks the album has potential to be nominated for multiple awards such as a Grammy. Kylie Knox, another Bingham student, stated "I just want to drive around and listen to this album forever!" She also believes it could be nominated for awards. 
Leave a Comment
About the Contributor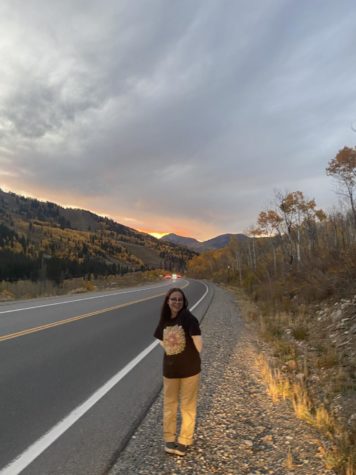 Ximena Santana, Staff Writer
I am a senior and enjoy hanging with friends, listening to music, and working at Dutch Bros!