Elections: What Happened and Why Should You Care?
As the 2022 midterm elections come to an end, the results are unexpected. Historically, the party with the presidency does terribly
, but not this year. 538 predicted Republicans to win 52 Senate seats and Democrats win 48, they also predicted that Republicans would win the House 224 to Democrats 211. 538 predicted that Republicans would win 28 gubernatorial elections to Democrats 22.
Democrats won 51 Senate seats, while Republicans actually lost one seat overall, leaving them with only 49 seats. In the House, Republicans did almost as well as expected, with 222 seats to Democrat's 213. In terms of gubernatorial elections, Republicans still hold a majority, but only by two states, 26 compared to Democrats 24.
Why is this election so huge for Democrats, even though they lost in most aspects? It's huge because Democrats haven't had control of the Senate since 2012. And reports are showing that Republicans are winning by smaller margins, compared to the 2020 Presidential Election, in historically red states. Polls are saying this is because of all the young people and women voting.
With a Republican Supreme Court overruling Roe v. Wade, many voters, especially women, who used to vote Republican voted Democrat this election. I asked Kathleen Riebe (D), Senator from Utah's District 8, what trends she sees in young people. She said, "I think younger people are becoming more engaged in the process because we have an unsustainable future for so many young people. The security of the middle class is evaporating. The gap between the 'haves and have nots' is at a record high."
Lincoln Fillmore (R), Senator from Utah's District 17, said, "Historically, young voters (18-24) are less likely to vote than the rest of the voting-eligible population. During the 2020 Presidential Election, 18–24-year-old's voted 48% of the time, which is 24 percentage points lower than voters aged 65+. Young people are less likely to vote for many reasons. One reason their intention to vote does not result in higher voter turnout is because young people do not think their vote will matter. The Institute of Politics at Harvard Kennedy School does a yearly survey on young voters and their perspective on voting. The survey found that 36% of youth agreed with the statement that 'political involvement rarely has any tangible results', a 14% increase from 2018. I am concerned that young people feel they cannot make a difference in the world through their involvement in the political process."
It is clear to everyone that more young people are voting, which means that future elections are going to be very different from what we're used to. But why should young people care? Jenny Wilson (D), Salt Lake County mayor, said this, "As Americans, our individual right to vote gives us our say in how our country works. No matter your age, an election is your 'say'. When young people exercise their right to vote, it puts them on a path of lifetime commitment to making the world a better place." Jani Iwamoto (D), Senator from Utah's District 4, said this, "Young people should care about elections because it is their future that is being affected by the decisions the government makes. And changes have been proposed to allow youth to get even more involved. In 2018 the legislature passed a law which allows 17-year-olds who will be 18 by the time of the general election to vote in primary elections. We also considered HB 422 during the 2022 General Session which would have allowed students who were 16 and 17 to vote in local school board elections. The bill passed out of House Committee but failed on the floor, however."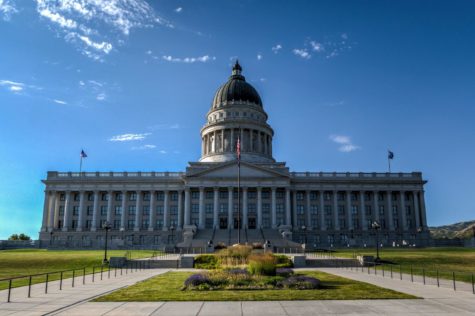 Should young people care about local elections? Do local elections matter as much as national elections? Dawn Ramsey, South Jordan mayor, said, "Local elections matter MORE than state or national. I firmly believe that the government closest to the people governs best. You might be frustrated with what you hear in the media about what happens (or doesn't happen) at the state or federal level, but most of you probably really enjoy living in South Jordan. The work that local government does has a greater impact on our day to day lives than policies at the state and federal level. Local government is where the rubber meets the road!" Kathleen Riebe (D), Senator from Utah's 8th District, said this, "Yes!!! More than national. Local elections set the climate for your community. Your local leaders can affect your local immediate life in a more direct capacity. National trends are set by what happens at our local elections."
I asked Senator Riebe what she would say to encourage young people to vote, she said, "When people say they're not political I remind them that politics is how the money is spent. Money is used to change our outcomes. Schools, housing, higher Ed., transportation, recreation, garbage pick-up, energy, reproductive rights, water conservation, daylight savings, all are directly impacted by your vote. Currently there are 29 centers and only seven (ish) of them have full-time jobs where they rely on their salary. The rest of them are retired and or independently wealthy. Five of them are female. Your legislative body and all of your representatives should represent you and your needs. I personally, as a teacher and mother, do not feel that the body I currently work with represents the needs of me or my family. I am a female in a super minority of democrats, but when Utahns are surveyed I align my values with a majority." I asked Senator Fillmore the same question, he said, "I would tell young people that they bring a valuable perspective to the political sphere through their involvement. We want to hear what young people think about our proposed policies. Our political system is designed to represent the population's interests, but elected officials cannot make fully-informed decisions if they do not hear from their entire constituency. From my experience, young people are passionate and capable. Political involvement is a major way that young people can transfer their passion into real-world impacts. I always want to hear from my constituents, especially my youngest constituents, about their thoughts on political issues. So, please reach out with your thoughts and suggestions."
Everyone who responded to my emails shared very similar opinions, young people should vote. I know I will vote as soon as I can, I learned a lot from writing this article and emailing local politicians. I encourage you to vote as soon as you can and have your voice heard. So few people vote in local elections that an election is considered "close" if it is within 60 votes. If that doesn't show how much your voice matters, then I don't know what will.
Leave a Comment