It's not About Gender; 'It's About People'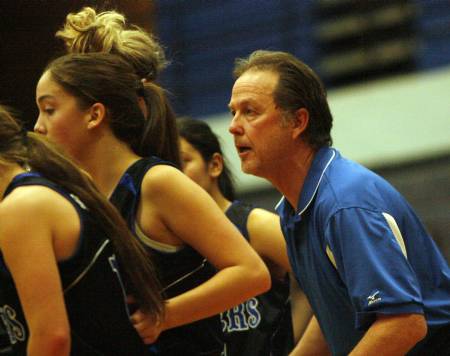 Coach Rand Rasmussen is ruthless on the court and field. He rages at bad calls, he even throws out a "what the hell are you doing?" on the good days, of course. But if Rand ever tells his players that they are playing like girls, it's because he actually means it.
Rand is an assistant coach on Bingham's baseball team and the Head Coach of the Lady Miners, Bingham's girls basketball team. In coaching both genders he treats them the same: harshly.
According to Rand, gender shouldn't be that big of a concern when coaching.
"I don't coach them differently, if they need bluntness they need bluntness. I call it as I see it," said Rand.
Rand coaches individuals, not boys or girls. He adapts his approach to each player and knows what will motivate them and help them succeed.
In choosing the staff, Rand surrounds himself with relatable people like Assistant coach Charron Mason, who played for Rand in her years at Bingham. Charron's role is to interpret Rand's anger to the players.
"I'm the bad guy. She's the mother hen. I say something violently and she interprets it," said Rand.
Charron agrees that gender is not important in regards to coaching. She said both genders have the same goals, philosophy and need for good players.
In fact there might be benefits to having a diverse team.
"It's like a family, we benefit from each other's strengths. We take positives from both genders because men and women think differently and that helps," said  Charron.
Senior captain Madison Aulai-Roe has experience with Rand's style. However, she wasn't always used to it. As a freshmen she was intimidated by his coarseness but Charron and the senior members of the team helped her to understand Rand's style.
"If he's not yelling at you, he has given up on you. That's when you should be worried," Madison said.
Rand helps his players on and off the court. He gives them advice about life or careers. He also helps through their personal problems.
"He's a father figure to me. He's a friend and a coach," said Madison.
Coach Joey Sato also has experience with coaching boys and girls teams. He is the current coach of the Bingham baseball team and coached his daughters in competitive softball for five years.
Like Rand, he did not adapt a coaching style based on which gender he was coaching, but on the individual. He had the same expectations of the softball teams a s he did of the baseball teams.
"They were expected to become better people through the game and learn life lessons, not just winning," said Sato.
The game of softball is not that much different from baseball aside from the obvious aspects of the game; the techniques, the gender that plays it and of course the name.
"The game is similar in that the physically adept players are the better players. With the mental aspect it's the same, great competitors do well just like in baseball," said Sato.
However, Bingham tennis Head Coach Dave Davis has a different way of coaching. Davis coaches both tennis teams and has coached girls volleyball along with track. According to Davis, there are differences between girl and boy athletes. He says that both teams bond in different ways.
"Girls are more social, it makes a difference for them to talk. Team bonding is important to them so I try to remember that. Boys aren't as talkative, they bond because they are sharing the same experience," said Davis.
He also trains the two teams differently, the girls team is pushed more and the conditioning is more intense.
"Our practice is stricter than the boys. Davis makes us run harder and pushes us more," said senior player Caroline Wang.
Davis does this because the two genders tend to play differently. Davis said that he wants the girls to be more aggressive because when they are aggressive, they are confident in themselves.
The boys are treated differently because they tend to be too powerful which can harm a player's precision. The seasons are also at different times. The girls begin their season is warm weather and the boys start in February, which affects the amount of conditioning the boys can do.
The needs of the players are different too. This affects Coach Davis' teaching methods as well. His techniques are based individually, but gender can change the methods he uses. According to Davis, the players each have their individual motivations, but as a whole, boys and girls vary.
"They (the girls) don't want to let their team down, they are afraid of it. This happens with guys, but it's stronger with girls," said Davis.
Although Davis' coaching styles are different towards the two teams, individuals are still important.
"It's not boys vs. girls. It's about people," said Davis.
Caroline agrees with Davis. Gender, whether the coach or player, might not matter so much as the talent that a person has and their mindset.
"Gender doesn't matter either way," said Caroline.
In spite of this, there are few women that coach boys teams. Coach Mary Kay Amicone is one of the first in Utah to have coached a boys baseball team. She coached the Jordan Beetdiggers for two years, beginning in 2003. She began her career there after coaching college softball at Brigham Young and Utah.
She was approached by the principal of Jordan after the baseball coach left. Mary had been coaching her sons in baseball during the summer before that and knew the game. Her younger son was even on the team.
Amicone was a pioneer in a field where few had gone before. She had the skills, the knowledge and the heart to coach, but this was something new to local baseball.
"It wasn't a new role for me. I was assimilated into the sport," said Amicone. "I had the physical skills, I knew enough about the game. But no one else was or had been female in my position."
The players responded well to their new coach. They didn't disrespect her because she was a woman but saw her as just another coach. In winning their respect, Mary had the same challenge as all new coaches do. She had to gain credibility.
"It wasn't about gender for them," said Amicone."It was about 'how is she going to coach or how she going to help me get a scholarship'?"
The other baseball teams didn't see it that way. When teams played Jordan they played at their highest possible level. They faced the best every game.
"Everybody knew that you couldn't lose to Jordan. Not because they were good, but because they had a woman coach," said Amicone.
Whether boys are coaching girls or girls are coaching boys, a winning attitude, hard work, and determination is what's important to all coaches.