The girls volleyball team has been dominating this year. This year we have 11 seniors, 8 juniors, and 2 freshmen on the varsity team. They are currently ranked 3rd in the state right behind Skyridge and Lone Peak. Last year they were ranked 7th in their division and 18th in state.  This year they are ranked 1st in the region and will continue to fight for that number one spot.
Our girls have some real talent this year and have shown that they are not to be underestimated. However they have only lost one game to Pleasant Grove but have come back and beat them by 4 sets. They've also beat Corner Canyon who just this year moved into our region, so it looks like the girls have a good chance of taking the region. The girls are on a 12 game win streak and don't plan on stopping anytime soon. With no sign of stoping soon, the girls feel that they have a pretty high chance of making it all the way to state.
In other news the girls are going into a tournament this week where they play the top two in the state and we shall see what the outcome is, but the girls think they will do good. This shows that the girls are ready for anyone who wants to play them. They are going for the title this year and don't plan on being stopped. The girls have been working reall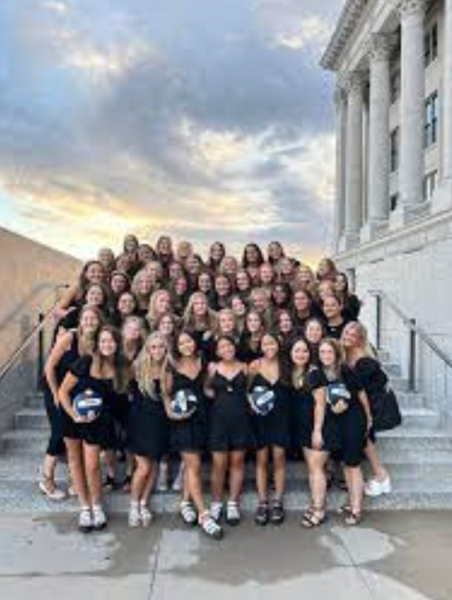 y hard this year and it seems that they will fight for the top spot. Additionally, the girls have very strong positions this year and seem to be keeping up the stamina and quickness of the game. The Libero Jessica Truong (Jr) has dominated the court with 500 career digs. She has had 162 digs and has had 250 receptions this year and shows she is not a force to be reckoned with. Levani Key Powell also has killed it on the court with 1,000 kills. She also has 204 kills this season alone and that just shows how talented she is. She comments,"We've been in the gym putting in work, fine-tuning skills and preparing for this last wave of region leading into playoffs. It's been fun so far progressing as a team and in the sport! Despite the 15-1 record, we have so much room to get better and that's the exciting part. I feel strongly that if we continue to grow and pay attention to the details we'll have a great run in the state!".   Alli Wolf (Sr) outside hitter also comments,"our coach always says "good habits dont have bad days" so we have been very focused on achieving our goals and making today better than yesterday and also it feels pretty good". She says this because of the team's progress and also because she has 43 total blocks this season. Their amazing setter Madison Evans (Jr) has 435 assists this season and has 1,000 career assists says,"The team is doing really well. I am proud of what we have done so far but I am definitely looking forward to what else we can do". She says this after they won with a sweep against Corner Canyon.
With all this in mind, we can all agree the girls are ready to succeed. Now, when they play strong teams they'll have the ability to get sweeps. Their last 3 games they sweeped the other teams because they were determined to take it all the way. We have 11 seniors this year ready to prove themselves during their last year. I hope that the girls go out with a bang, because this year they are exceptionally good. The girls have tried really hard this year and we hope to see everyone come out to celebrate them on October 18th as your very own Miners sweep Copper Hills for senior night.