School Store Offers Healthier Options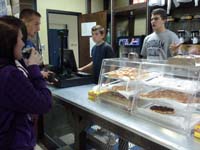 Due to recent changes in federal law, the school store, "The Mine", will now be offering healthier alternatives for students.  The government has shown recent concern in what food is being sold in schools throughout the country, and these new changes are owed to First Lady Michelle Obama's "Let's Move!" campaign.
The campaign is funded largely by the Healthy Hunger-Free Kids Act of 2010, which approved 4.5 billion dollars to be used for the purpose of addressing the nutritional quality of school food.  This mainly affects school lunches, but it also affects what is sold to students in The Mine, even though it is not in a designated lunch area.  Bingham High School, as a secondary school, requires its principal to monitor what is sold in the school and ensure that healthy choices are available.
"We're including even more healthy options than before," said Mr. Steven Strong, the teacher in charge of the school store. "Without healthy options, we can't operate."
Adding the healthy options will allow the store to keep its unhealthy products.  According to Mr. Strong, business is expected to continue as usual.
"We don't rely solely on food products. Besides food, we have a wide range of merchandise," he said.  The Mine sells Bingham shirts and sweatpants, and has in the past sold key chains and headphones.  Mr. Strong also pointed out that many students who don't have time to leave campus use The Mine as their lunch source, and he is glad that healthier choices are now available.
Not all students are excited about the new additions to the school store.
"It sucks. We already have healthy options elsewhere," said senior SBO Adam Lever.
The new products that will be sold include assorted Fiber One bars, healthy pudding and applesauce and water bottles.  The school store opened on September 17th.