The Debate Team Dominates at Region
The Bingham Speech and Debate Team has been preparing all year by living out their motto, "Think like a champion, work like an underdog, behave like a friend." Regions were hosted by Bingham on February 26 and it was time to show their hard work to the judges. There were three rounds attended by neighboring schools West Jordan and Copper Hills. The Bingham Speech kids placed first in Interpretation, Oratory, Informative, Impromptu, and National Extemporaneous Speaking. Likewise, the Bingham Debate kids placed first in Public Forum and Lincoln-Douglas. They also placed second in Policy. 
Overall, the team placed first at Regions for the first time in three years, which was no surprise to their assistant coach Mariah Andreason who predicted before the competition, "We are going to sweep regions and qualify our entire team for state." The team did amazing this weekend and will be going to state on March 12 and 13. Andreason said, "I expect to do well in state and earn individual awards."
If you're not sure what any of this means, here is a quick rundown of categories. Speech kids can do many different types of speeches including funny, dramatic, and even political. Some speeches must be prepared and memorized, while others are delivered with only a few minutes to prepare. Some of these longer speeches include Dramatic Interpretation, Humorous Interpretation, Original Oratory, and finally, Informative. These speeches are 10 minutes long and must be memorized. Other speeches are not prepared until you get the topic in-round, including Extemporaneous (Extemp), Impromptu, and Spar. 
Debate kids can also do different events including Policy, Public Forum (PF), Congress, and Lincoln-Douglas (LD). All of these are prepared beforehand, but they have different times in the round. Public forum and Policy involve partners, but Congress and Lincoln-Douglas are done individually. 
If you are interested in joining the team, you can join as early as freshman year and for seniors, taking the class counts as an English credit. The coaches encourage new members and love teaching debate by "helping students become more confident in their speaking and arguing abilities," says Andreason. Current Speech and Debate members recommend joining the team next year to learn to "think like a champion, work like an underdog, and behave like a friend" all while being part of a winning team.
Leave a Comment
About the Contributor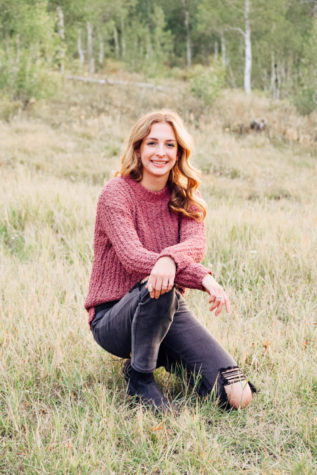 Syd Alexander, Social Media and Publicity Manager
I'm a senior at Bingham this year. I am so excited to work with the staff with this job for the second...