Parking at Bingham is bad. Like super bad. It's so bad that KSL had a whole section about Bingham on TV. But why is it so bad? What changed from last year? I was able to break down the numbers to figure this out.
On the first day of school for the 23 – 24 school year, the parking lot was overflowing with cars. People were parking anywhere they could because there were no parking spaces. This resulted in many people being blocked in and unable to get out of their parking spaces. But it wasn't this bad last year.
In interviews with Mr. Erickson, the vice principal who is over parking, he was able to tell me these numbers for October 2022:
Total: 758
Seniors: 614
Juniors: 144
Also, Mr. Erickson gave me these numbers for September 2023:
Total: 1016
Seniors: 592
Juniors: 424
This year, there are about 34% more parking passes than last year at around the same time. This is all because Juniors can buy parking passes this year. In past years, juniors were selected for parking passes through a lottery system.
Mr. Shaw, Bingham's principal, explained how the lottery system works: "Juniors are chosen doing a lottery system.  Once the lottery is closed a random number is chosen and that's where we start by offering lottery parking passes until they have all sold out.  The number of junior passes depends on how many seniors buy one.  For example if we had 700 passes for sale but only 400 seniors bought one, that would leave 300 for Juniors."
There are only 700 parking stalls at Bingham (not including teacher and visitor stalls). That means about 1.6 students are assigned to every stall. With the current parking pass numbers, that means 383 students can not park (assuming every student with a pass is driving to school that day).
To put that into perspective, last October there were 1.08 students assigned to every stall. With those numbers, only 58 students could not park (again, assuming every student with a pass is driving to school that day).
With that information, there are over 6x more students that can not park this year when compared to last year. This is slightly inaccurate because of the construction which is currently taking up 70, or 10%, of the parking stalls.
In addition to the September 2023 parking pass numbers, I also got the numbers for the past 3 years. Here is the data (Note: EOY means End of Year):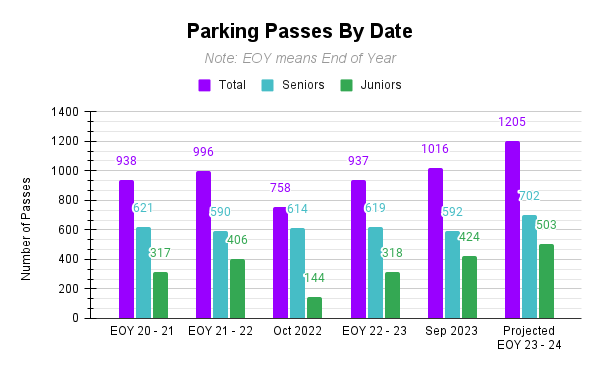 As you can see, there is a considerable difference between the end of year 22 – 23 and the September 23 numbers. There have already been 8.5% more parking passes given out this year than at the end of last year.
I compared the October 2022 numbers with the EOY 22-23 and used that to project some numbers for the End of Year 23 – 24. Here are the results:
Projected EOY 23-24:
Total: 1205
Seniors: 702
Juniors: 503
Note: Bingham does not plan on selling any more parking passes this year
If the projected end of year 23 – 24 numbers are correct, there will be about 1.7 students assigned to every parking stall. Assuming this is somewhat accurate, there will be about 500 students who can't find a parking spot by the end of the year.
When seeing the numbers, it becomes clear why the parking lot is packed every day. But why did this change get approved and allow the school to sell 34% more passes than last year? Mr. Erickson said the School Community Council voted in favor of this change after surveying Bingham students.
The survey that was given only had 270 responses. Out of those 270, 187 students voted to let all juniors buy passes. I spoke with several Bingham students and no one can remember the survey being given out. One student, Trinity Grub, said, "I checked my email and Skyward, but I couldn't find anything about the parking survey."
On the Jordan District's website, they say Bingham has about 2400 students. This means the school and the community council changed their parking policy based on the opinion of less than 8% of the student population. According to the School Community Council's minutes from the meeting where this change was discussed, Community Council member Lance Valerio said he had trouble parking when attending a PCCR meeting in February 2023, before the parking pass changes took place.
Even though a Community Council member had trouble parking and only 8% of the students voted in favor of the policy change, the change still went into effect.
Here is what Bingham students and teachers think about the changes:
"I'm a teacher and have guaranteed parking, however, I have noticed an increase in tardies for students. I have had students talk to me about the fact that they can not find parking due to being at JTEC or not having a first period," Ms. Davidson, a Language Arts teacher, said.
"Parking has always been an issue since I've taught here, but we work with what we've got" Ms. Cook, a social studies teacher, said.
Once this change was made, the students immediately voiced their concerns and were ignored. A Change.org petition was started and has received over 1,000 signatures to no avail. KSL TV had a section all about how bad parking at Bingham is. Despite all the pushback, the change still hasn't been reversed.