Marching Band, Color Guard Prepare For State Competition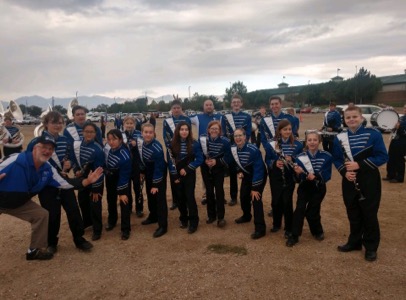 The marching band and color guard have been practicing hard together in preparation for their state competition on Nov. 5 in St. George. 
The two performing groups practice together and separately. The band plays instruments while marching and the color guard does choreography with flags. Together they create spectacular shows for our school. In addition to performing at halftime for football games, they perform at other regional competitions. 
Their performances take a lot of effort and time leading up to competitions. "The band practices about 9.5 hours a week," said Sarah Storm, a senior student on the marching band's front ensemble. 
They also have rehearsals over the summer and attend a band camp. 
Additionally, the color guard practices three times a week, and students take their equipment home to practice so they are able to perform their best.  
"I have high expectations for them, and so far they have exceeded them," said Heather Davidson, Bingham's color guard coach and English teacher. 
Davidson is there for her students and team every step of the way before performances. She choreographs almost the entire color guard section in their performances and picks out their costumes. 
With all the preparation both marching band and color guard have done, they are excited for the competition in St. George. Storm expressed that she feels a bit excited and nervous. She stated, "I am excited for the trip and the show. But this year we have had a lot of problems with our sound system so I am just hoping that it works for the state comp." 
Coach Davidson also expressed she is excited and feels that her team is preparing well for the competition.
"I remember competing in the same state championships when I was in high school, and it's just a really fun experience," said Davidson. 
Both the color guard and band have been working as hard as possible so they'll feel good about their performance. 
As they get ready for their competition, one thing they'll be thinking about is how they'll be scored. A couple of years ago the way the band was ranked in competitions changed from being based on the number of people in the band to now being based on the size of the school. Bingham is a larger school with a relatively small band. This means the band competes against bands sometimes double their size. 
"We haven't gotten last place this year so that is pretty awesome. Judges are just looking for more clarity in what we are doing," stated Storm. 
Overall, the marching band and color guard have been working hard and continue to improve. Their performances are an important tradition here at Bingham and their hard work will truly show at their state final. 
Leave a Comment