Dreamscapes
After its grand opening in 2018, Dreamscapes has been a huge attraction for people of all ages around Utah. Located at South Town mall in Sandy, Utah, it functions as an interactive art exhibit, featuring a myriad of work by a number of artists, all working together to create an experience like no other. There are two sides to the installation, the first being the Dreamscapes interactive experience, where viewers are able to walk through and experience the exhibit, and the second being the Bizarre Bazaar, where art is available for purchase. 
Dreamscapes was founded by a large group of artists with an idea to create a sustainable, never before seen experience for people. Originally the attraction was located at the Gateway, but in November of 2018 it closed its doors to move into a larger space at South Town Mall where it remains today. Working under the Utah Arts Alliance, Dreamscapes has been able to provide a completely unique experience for all. 
Home to many artists, Dreamscapes is a beautiful exhibition of the creativity and uniqueness of Utah locals. Izzy Beauchesne, the youngest working artist at Dreamscapes and a junior at Bingham High, said, "It's not a typical art experience, [there's] an added level of creativity and it's very sustainable." 
Sustainability has been a key part of Dreamscapes since its inception, a large part of the founding artists' vision was to be as environmentally conscious as possible. This is where they have absolutely thrived. According to Dreamscapes, 90% of the materials used to create the scenes were upcycled or recycled, but since its opening, the exhibit has saved 68,112 pounds of landfill-bound materials. This equates to 252,232 pounds of carbon saved, or 3154 trees planted over the 5 years Dreamscapes has been running. 
Izzy Beauchesne is one of the wonderful artists that makes Dreamscapes possible, working to create amazing experiences since its second build at the Gateway in 2021, and subsequently helped during the move to South Town Mall. She began her work there as an assistant to Kaysee Lane, who is affiliated with the Utah Arts Alliance. After working to organize multiple festivals and events, Izzy was formally asked to apply for an artist position, making her the youngest artist at Dreamscapes. 
In an interview, she said that some of her favorite pieces at Dreamscapes had to be the Giant Dragon and the Candy Room created by Kaysee Lane. She went on to say that she thought that pretty much everything Lane created was amazing, stating that, "Her mind is really beautiful."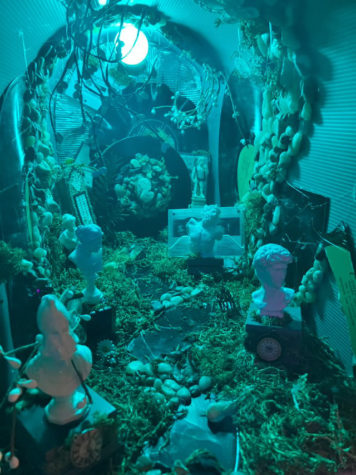 Dreamscapes is a wonderland of sorts, not only an incredible sensory experience for all that visit, but it also works to better the parts of the world it touches. Their mission statement shows just how important being a positive influence is to the Dreamscapes team, working to, "empower, inspire and include all members of our community by reimagining the traditional definition of art." The team goes above and beyond to do just that, not only with their successful endeavor to reduce waste, and depend on mostly recycled and upcycled materials for their exhibits, but also with community work. Recently, Dreamscapes has offered a new service to consumers – now offering to host community events such as birthday parties and field trips. Truly a wonderful way to put their mission statement into action, by getting very involved with the people around them, not to mention that all of the artists are Utah locals! 
The Dreamscapes team has worked hard to become what they have today. Their artists have done well in inspiring others to create, as well as choosing to be as sustainable as possible. It has also provided an amazing opportunity for artists to express themselves. When asked in an interview, Izzy said that one of her favorite pieces that she's created is her Giant Rib Cage piece. She went on to explain that it allowed her to express feelings about problems she had been having with her own ribs, and that she took a lot of inspiration from death, saying that there's a, "misconception that death is a bad thing when it really can be beautiful." She also explained that she gets to really express herself in a variety of ways when creating for the installation, she loves to use moss, flowers, skeletons, and historical statues. Her process is to create something that would be, "like if aliens came down, and this is what they curated from Earth."
All in all, Dreamscapes isn't just an art exhibit, it is truly a unique experience that works to inspire others to not only create, but also to be more sustainable and to become more connected with their
community. 
Leave a Comment
About the Contributor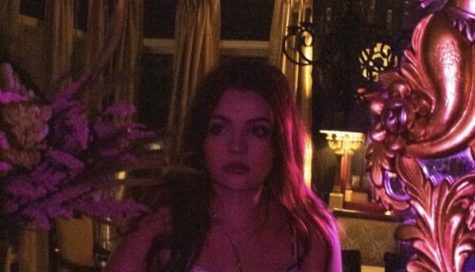 Chloe Labrum, Staff Writer
I am a senior at Bingham this year, and I'm very excited to be on newspaper. After graduation I hope...