On April 8th, 1927, the young students who were enrolled at a then 20-year-old Bingham High School whitewashed a giant "B" on a mountain overlooking Copperton, Utah. The boys, led by a chosen captain, carried rocks up the trail to form the "B." Once it was completed, the rest of the day consisted of lunch, games, and activities for the students. The "B" was whitewashed annually every spring, enlarging it to its current size and creating a local holiday, the aptly named "B Day."
"I don't know exactly when [the "B" was most recently whitewashed], but it's been more than five years. Probably six to seven years ago… Because Rio Tinto owns the property that it's on, we have to do all the coordinating through Rio Tinto to make it happen. I mean, they're a multi-billion dollar international company, and they're a little reluctant to have a bunch of teenage kids running around all over the side of the mountain where if something happens, it kinda puts them in a liability situation. So when they were coordinating this year's whitewashing of the 'B,' I think there were… at least two Zoom calls, coordinating everything with Rio Tinto. They gave us the number of students they would accommodate. We had to get the whitewash paint approved before we could take it up there, we could only take the buses to the transportation center, and then we had to get on Rio Tinto buses to drive us up to the 'B.' The kids involved had to wear paint covers because they [Rio Tinto] didn't want their buses covered in paint, so there was a lot of coordination with Rio Tinto," says Rodney Shaw, the principal of Bingham High School.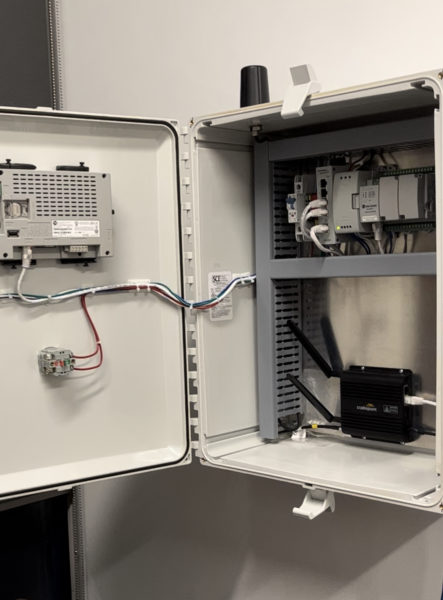 However, due to rapid and unexpected growth early in the school's history, Bingham High School has changed locations three times since the creation of the "B," moving about 10 miles East of its original location, and the "B". On September 20th, 2018, 91 years after the initial whitewashing of the "B," former and current students of Bingham High School worked with the city to add lights to the Bingham "B," allowing it to light up for special events like homecoming and football games. In terms of moving the "B" to a location closer to the school, Mr. Shaw said, "It would be awesome to somehow move all those rocks down to the stadium… y'know, taking all the measurements up there so we lay it out down here to make a real cool monument. But the Alumni Association invested significant time and money in getting those lights put around the 'B'… so we would have to get many involved in that discussion and it would have to be a last-ditch effort to move those back here."
Now, most students, unfortunately, don't even know about the "B." This is due, in large part, to it being nowhere near the actual Bingham High School. Our symbol of pride is one of only 87 hillside letters in Utah with the whole state having 945 different schools, which shows that students should care about this situation! Not only is the "B" a symbol of our history and heritage, but a symbol of our pride and success as a school. And despite the unfortunate disconnect between symbol and school, both share one vital thing in common: their futures are looking bright (literally and figuratively).