Clone Wars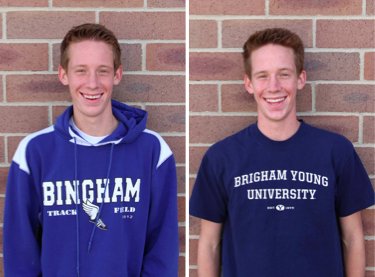 At Bingham High School, "carbon copies" can be found roaming the hallways. Twins, like the Walkers and the Orrs, battle to see who is the supreme sibling.
Seniors, Bryson and Caleb Walker find the competition one of the best parts about being a twin. They like having someone they can compare themselves to as a source of motivation to improve.
Don't let their names fool you- the Walkers are dedicated runners. They are part of the Bingham Cross Country team and track and field, too. Both boys have made it to varsity with Bryson only seconds behind Caleb. While Bryson tries to catch Caleb, Caleb is thinking in the back of his mind: "Don't let Bryson beat you."
Tiani and Ciera Orr, seniors, also find competition in their sports, but mostly enjoy supporting each other. They are both on the swim team, but perform separate events.
Tiani swims the 100 backstroke, and the 100 freestyle, while Ciera takes on the 100 I.M. (Individual Medley), and the 100 Breaststroke.
"She's faster than me [in swimming] and I know it, but I can run faster than her," said Tiani.
Tiani decided to run track last spring and has made varsity in both cross country and distance track. Ciera is a very fast swimmer, holding the record for the 100 breaststroke with the time of 1:08.42. Tiani is very proud of her twin sister for all of her hard work.
"She doesn't just give 100 percent, she gives 110, 120 percent," says Tiani, "She will push through just about anything- including physical ailments."
Both these sets of twins are very friendly and sociable, but Bryson disagrees saying that his brother is still a "social caterpillar."
Bryson says that this makes getting girls easier for himself. One would think that looking almost the same could possibly cause some competition and problems between the twins with dating.
Luckily for them, the Walkers have never liked the same girl. Also, Bryson claims that he is the better-looking twin. Caleb objects and says that since all the girls like him better, it eliminates the competitiveness in their dating.
"I have proof to back it up," said Caleb, "Multiple girls have said I'm more attractive."
The brothers may have their own opinions, but to anyone who is just meeting them for the first time, they are spitting images of each other.
People are always confusing one twin with another. The Orrs don't mind at all if you mix them up. In fact, they think it's funny when you don't know who's who.
"Messing with people is pretty fun. It's not like we try to, it just happens," said Tiani.
"People will come up to us, and be shocked that there's two of us. They say: 'this whole time, I thought there was just one of you changing outfits.' Yeah…right. For every class period, you know, I go change," said Ciera.
In 6th grade, as a joke, the twins decided to switch places. They were in different classes and had just cut their hair the same length. They went into each other's classes for the day, and no one noticed except for a couple of friends.
"We got in so much trouble. They [the teachers] didn't even think it was funny," said Tiani.
The Walkers have also tried switching places with each other. In band class, they swapped seats and played each other's instruments. Bryson tried playing Caleb's trombone, while Caleb attempted to play Bryson's saxophone.
These two sets of twins are very hardworking students. All four of them challenge themselves with difficult classes. Tiani says that she feels the weight of her homework load even more than her sister does. The Walkers say they also compete when it comes to their grades, trying to top each other in every subject.
According to the Walkers and the Orrs, being a twin comes with a few disadvantages. They say it can be annoying to always have a shadow, but sometimes they appreciate having a best friend around–someone they can relate to.
The twins also have to share a lot of the things they have, and the girls often times find it aggravating when they wear each other's clothes.
"We have to share everything…we share clothes, and when we both want to wear the same thing it's like World War VIII," said Ciera.
One advantage of the twins is that they can meet many people through each other. They share a lot of the same friends at school and know the same people basically anywhere they go.
"We have a lot of friends in common. If Bryson knows someone, then I end up knowing them," said Caleb.
Despite these twin's differences and their competitiveness, they are extremely close. They may get on each other's nerves, but the good definitely outweighs the bad.
Other twins at Bingham: Curtises, Aubreys, Petersons, Schievings, Childses, Westras, Mabeys, Larsens, Williamses, Lows, Workmans, Davys, Faulaos, Gardners, Lebarons, Nguyens, Nussenzveigs, Butchers, Conders, Fountaines, Gonzalezes, Villaloboses, Worthens, Yateses, Alcantaras, Kellys, Monsens, Phans, Razos, Teplys, and even the Briggs triplets.