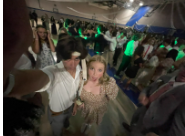 School is finally starting and you know what that means… SCHOOL DANCES! Everybody loves school dances but nobody really knows what to expect or when to ask your date to the dance. Like when is it too early or how they should ask someone? I asked fellow students their opinions and here is what I found. Starting with when you should ask. There were a lot of different answers, but I found that girls ask earlier than the boys do. "I like having plenty of time to get everything I need." Another girl said, "It takes time to find and plan everything for the dance." Then I asked the boys why they ask later than when the boys do. "Sometimes I forget how close the dance is." and, "It doesn't take long to find a day date and so I don't worry about it." Yes, it can be stressful sometimes for the ladies that have been asked to find a dress, shoes, boutonniere, nails, and hair. Although how much time do you really need? Sometimes girls just wanna make sure they get the right guy before anyone else can get him. 
Tianna, a junior at Bingham said, "I think it's too early to ask the same week as another dance or within a week after the dance." Ashley, a senior at Bingham replied, "It's too early to ask right before the dance that just happened." As you can see most people have the same opinion on when it's too early to get asked but I did have a few unique opinions. For example Lauren, a junior at Bingham said, "Well I wanna say that doing it right after another dance is too early but all of the guys are getting snatched up so you kinda have to ask early." or Cole, a senior said, "I don't think it's ever too early to ask, I got asked two days after Homecoming.". As you can see most people think that you should wait to ask someone to a dance but they still do it anyway.
Then I asked a few different people when it was too late to ask someone to a dance. Bingham junior, Rheo said this, "When they've already been asked or it depends on what you're planning for the day date so probably a week before the dance, the week of or the week before the dance." You might have noticed how differently people are answering the same question. That's because girls and guys think very differently on when you should ask. I asked some of these students why it was too late. What challenges come with being asked too late? They said finding everything you need for the dances is way too stressful when you don't have enough time to plan it out.
The most traditional way to ask someone to a dance is by getting a poster and/or a gift of some kind with a cheesy or punny saying. Hoping they give something similar back saying yes. It is what almost everyone has done to ask so if you are a little shy and don't want to stand out then this is the route to go. Although if you wanted to be a show stopper and catch everyone's attention, you could do something a little different. Some of my favorite big proposals  are flash mobs! Have I seen anyone do this in public for a high school dance? No, but it's definitely one way to catch eye
In conclusion, Bingham High students have made it very clear about three things. One that you shouldn't ask right after a dance that just happened, because they still need to recover from the last dance before they can move onto the next one. Two, don't ask the week of or before the dance. All you are doing is stress everyone out and it's not going to be fun for anyone. Lastly if you want to take everyone's breath away because they are laughing too hard you should do a flash mob for your proposal.