Nintendo's Next Generation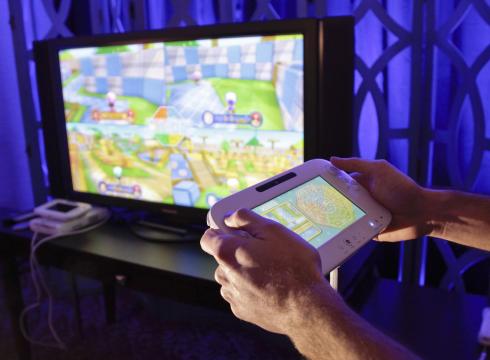 The next big thing from Nintendo, the Wii U, will hit stores November 18. Revealed during the 2011 Electronic Entertainment Expo in Los Angeles, the successor to Nintendo's Wii will feature an impressive new controller (the "Wii U GamePad") with a built-in 6.2-inch touch screen as well as much more powerful hardware and support for HD resolutions. If all that doesn't make a consumer want an upgrade, maybe this will.
Announced via an online preview on Nintendo's official site, two Wii U bundles will be available at launch: a "Basic" white 8GB model priced at $299.99 and a "Deluxe" black 32GB model at $349.99. The Basic bundle includes the console, the GamePad, an HDMI cable, and an AC adapter. The Deluxe bundle includes all that in addition to a charging cradle, a stand for the Wii U, and a mini-game collection called Nintendo Land.
The system will also have several cool built-in features such as Nintendo TVii, a video streaming service that combines cable or satellite TV programming and services such as Netflix, Hulu Plus, and Amazon Prime. Also included is an online social networking service called Miiverse that allows players to share comments, scores, and achievements between consoles. The Deluxe Wii U bundle will feature a limited time promotion for discounts on Nintendo's online eShop.
Some, however, are skeptical of the Wii U's price due to a shaky launch and subsequent price drop for Nintendo's last console, the 3DS. President and CEO Reggie Fils-Aime of Nintendo of America stated, "We don't believe in pricing a product and then having to reduce the price some short time later." Nintendo's main rivals, Sony and Microsoft, have yet to announce their next generation home consoles, although Microsoft is projected to do so within the next few years. It looks like they'll have to keep up the pace if they want to compete with Nintendo's innovation.