Monthly Horoscope: December 2022
Aries: December is a time of healing and transformation. This month, you will get a clean slate. Use this to get moving on stalled projects or financial dilemmas. Learn to love yourself unconditionally. December is a time to socialize and explore personal interests. 
Taurus: This month, you may find others difficult to get along with, or a relationship may take a sudden turn. Maintain your boundaries while accepting these changes. This December, release self limiting beliefs and the past. Step into the future you've been working towards. This December, you will experience peace and relaxation. 
Gemini: In December, pay attention to how you manage your time and health. You may feel sluggish, so pamper yourself with nutritious foods and gentle exercises. December is the time to complete detailed projects and finish what you may have been putting off. Prioritize your physical and mental health this month.
Cancer: This December is the time to explore your creative talents. Strengthen your self confidence without external validation or approval. You may feel socially withdrawn and introverted. This month, you will need to nurture relationships that inspire you and light you up. December is a time to release procrastination and focus on creating fulfilling habits.
Leo: December is a time to balance rest with ambition. Be sure to give your body and mind rest from any burnout that you may be experiencing. You will begin to notice results that you have earned from the hard work and progress you've made this year. Explore new hobbies and find new ways to enhance your life. Love and joy will be coming into your life this month. 
Virgo: Now is the time to prioritize your interests and explore your ideas. Treat yourself to special occasions and take advantage of new opportunities. December is the time to expand your horizons through beginning new traditions and considering different opinions. Be sure to spend quality time and reconnect with loved ones this month. 
Libra: This month, new opportunities to expand and increase your income will appear throughout your life. Take the time to cut down on impulse spending. Strengthen your self confidence through learning something new. Create something that you have always wished to make, whether it's a new recipe, craft project, or simply a new routine. This is the time to make your dreams your reality. 
Scorpio: December will bring change. Embrace spiritual, mental, physical and financial changes. Strengthen your existing boundaries and learn to stick to your word. While parts of this month may be difficult, remember that these challenges are preparing you for more prosperity and inspiration. Take advantage of new opportunities that come into your life during this month. 
Sagittarius: This December, be sure to take a break or step back. It is important that you rest or heal. Consider taking a break from social media or getting rid of old items. This is a time for self reflection, finding closure, and forgiveness. Take advantage of opportunities to begin something new. Begin or complete items that have spent years on your bucket list. 
Capricorn: In December, you will focus on friendships and future goals. You may find yourself in new roles, such as leadership. This is the time to transform yourself. You will find many opportunities to expand your knowledge as well as embrace differences and connections. Release any fears of comparison that you may have by valuing the gifts that you bring to the world. 
Aquarius: This month, focus on setting new goals. You will get what you want by overcoming procrastination. You may find yourself in verbal agreements, so choose your battles wisely. You will have a desire for rest and solitude, which will allow you to find solutions to any arguments. This month, focus on slow and steady growth rather than overstraining yourself.
Pisces: December will be a time for you to realize your amazing and spontaneous personality. You will come out of your shell and try new things. Make time for any important conversations you have been avoiding. Express yourself with creativity and try something that you have always wanted to do. This month, you will find increased stability and independence.
Leave a Comment
About the Contributor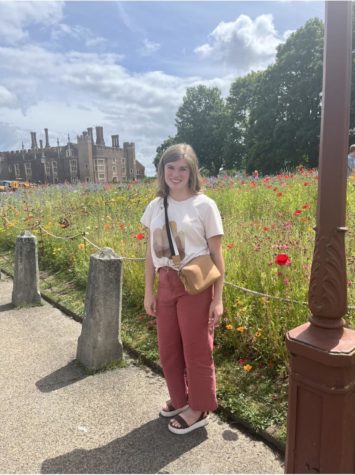 Sophie Whitehead, News Editor
I am a junior. I'm excited to be the News Editor this year. I love traveling, crocheting, and playing...