College Football Playoff or January Madness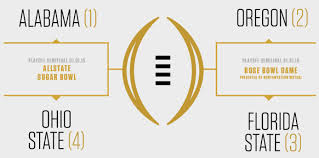 It's everybody's favorite time of the year; it's time to fill out your brackets! Everybody loves trying to be the first one to fill out a perfect bracket and pick the champion out of the 68 teams. Oh wait…this is football? Why are there only 4 teams?
On December 7, the first 4 college playoff participants were announced. Alabama, Oregon, Florida State, and Ohio State will participate in the small tournament beginning in January. Obviously with only 4 teams making it, there are some teams that feel ripped off.
TCU dropped from the third ranked team down to the sixth ranked team after a 55-3 win over Iowa State. Many people feel that TCU should have made it but ultimately their weaker schedule wasn't enough.  Christopher Gasper of the Boston Globe says, "The idea [of a playoff] is a tremendous one, a vast improvement. The execution by the committee was less than perfect, or logical."
Baylor was another team that felt snubbed. They were ranked fifth and just missed out on the chance to play for the big prize. Joel Klatt from Fox Sports thinks it's because the Big 12 does not have a championship game. Instead of having one champion, TCU and Baylor were crowned "co-champions" of the Big 12.
Commissioner Bob Bowlsby felt left out. "It's clear that we were penalized for not having a postseason championship game. It would have been nice to have been told that ahead of time because we made the impression that we had a different model, but it wasn't one that was going to penalize us, and I think it's clear that it did."
Having a playoff system instead of just sending teams to bowl games is a good thing for a lot of reasons, but 4 teams seems like too little. Many people feel that eight would be a good amount of teams. Others feel that six teams would also work well. "Eventually, the playoff should expand to six teams with the third-ranked team playing the sixth-ranked team and the fourth-ranked team playing the fifth-ranked team for the final two spots," says Gasper. However, people will have to wait to see change, as barring a dramatic change, this system is locked in through the 2025 season.
Top ranked Alabama will take on Ohio State, and Oregon and Florida State will square off. The two first round games will take place on January 1, with the championship happening the following week.