Kicking to B Champions
Speed, strength, aggression, confidence, discipline, and passion for the beautiful game of soccer, or as the rest of the world prefers to call it, FUTBOL! These are the 6 traits that make up a Bingham Miner Soccer Gal, and these 6 traits are what lead Bingham High School into the state playoffs against some of the best teams in Utah this season.
But were the girls ready for these petrifying clashes?
Let's take a look at how well the girls did throughout this season and their chances of being called the new Champions of Utah.
The girls played a total of 16 games this season, winning 8 of those and taking home 8 losses. They scored a total of 37 goals throughout the entire season averaging 2.3 goals per game. These numbers and the talented roster raising the digits are the one of the biggest keys to Miner success on the pitch.
Defensively, the team struggled to hold their own allowing a total of 30 goals from opposing teams. Allowing teams to average 1.8 goals spanning the entire season. 
However, stats and a .500 record did not hold the Miners back as Bingham High Girls Soccer Team took 3rd place in the region. Being in 3rd place will make the "road to becoming champions" much more treacherous and challenging, but Bingham fought with heart to the very last minute!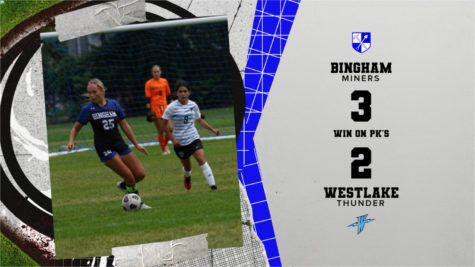 Having played their first playoff game against Westlake, the girls showed their fury and unrelenting drive, pushing the game into overtime; with a score of 2–2 in what became one of the most intense games the girls played this year. "The Lady Miners were put to the test," said one of the staff members at Bingham. In the end they were able to come out triumphantly in a penalty shootout, finishing with a score of 3–2. 
The second playoff match was the hardest test these girls faced as they matched up against 1st place in Region 1, the Farmington Phoenixs. Bingham fought with all their might, but were brutally brought down and taken out of the playoff race by a disheartening 4–0. 
Overall the girls had a wonderful season and played their hearts out. Every player had a chance to be involved in a goal this season and each left their mark for the school and for future generations.
Leave a Comment